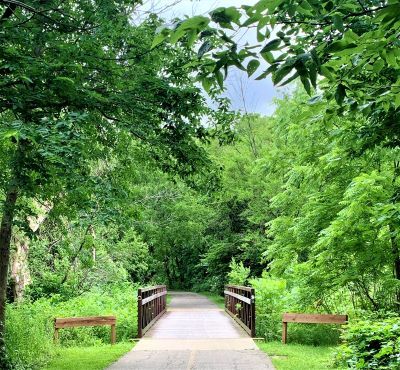 Kane County Offers 'Staycation' Holiday Activities for All Ages
Kane County Connects Staff 8/29/2023 6:00AM
​

If Labor Day weekend plans call for a 'staycation', Kane County offers plenty of activities to keep families busy while enjoying the great outdoors.
For shopping and bargain hunters the Midwest's largest flea market, the Kane County Flea Market is this weekend.  Established 56 years ago, the flea market is open Saturday from Noon- 5:00 p.m. and Sunday from 7:00 a.m. – 4:00 p.m. and features more than 600 dealers. Visit the website for additional information.

Plan a visit to one of the 27 different forest preserves throughout Kane County.  Check out the Kane County Forest Preserve website for a complete list and locations for hiking trails, which also includes amenities offered at each site such as picnic areas, fishing, off leash dog areas, etc.​
If biking is in your plans over the holiday weekend, the updated Kane County Bicycle and Pedestrian app provides individuals with​ a map of local and regional trails, bike facilities and bike shops, trail surfaces and levels of traffic stress, which measures how stressful a roadway's traffic is to bicyclists or pedestrians.   

The map included in this app are interactive, meaning you can click on any of the icons or lines in the map and more information about what the data represents will appear in a pop-up window.  Visit the app site by clicking here.

Take a trip on the Fox River with help from The Fabulous Fox Water Trail, designated as one of only nine trails across the U.S. selected as a National Recreation Trail in 2023 by the U.S. Secretary of the Interior.   Visit the Fabulous Fox Water Trail website for printable maps, itineraries, estimated travel times, amenities offered, etc.  In addition, the site also provides safety tips and additional online resources to plan a trip.​

The recently-renovated Settler's Hill Golf Course is now open and boasts one of the most unique views in all of Chicagoland.  Visit their website for tee times and learn about its history.
Dog parents can take their four-legged companions to several off-leash dog areas located in Kane County.  Visit the website to see locations in Aurora, St. Charles and West Dundee.
Finally, what's a holiday weekend without the great American pastime?  The Kane County Cougars will play the Lincoln Saltdogs during games on Friday, Saturday, Sunday and Monday, with fireworks Friday-Sunday and a pre-game concert on Saturday and Sunday. Visit the Kane County Cougars website​ for directions and additional information.​