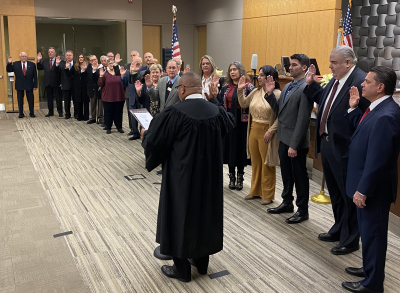 New Kane County Board Ready to Get to Work
Kane County Connects Staff 12/5/2022 12:00PM
​

All 24 members of the Kane County Board took the oath of office on Monday December 5, 2022.   Kane County 16th Circuit Court Judge Julio Cesar Valdez administrated the oath that is given to all elected officials prior to taking office.
      "I do solemnly swear (or affirm) that I will support the Constitution of the United States, and the Constitution of the State of Illinois, and that I faithfully discharge the duties of the office of …… to the best of my ability."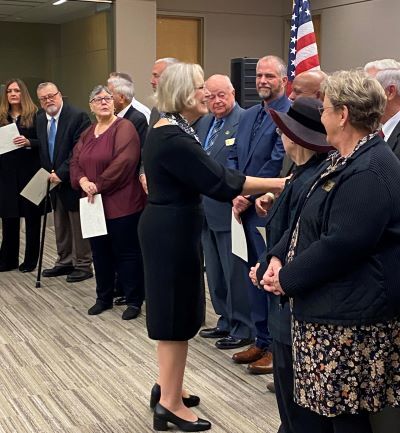 The invocation at the start of the event was delivered by former St. Charles Mayor and longtime educator Ray Rogina who urged all elected officials to keep the lines of communication open with constituents, colleagues and staff.He recounted a phone call he made to a resident who was surprised to hear directly from the Mayor about her problem.

"This same principal of two-way communication should be the standard among the members of the various legislative bodies across the nation; federal, state, county (and) local," said Rogina.
Remarks about the occasion also were shared by Kane County Board Chair Corinne Pierog, quoting former First Lady Eleanor Roosevelt who said "you must do the things you cannot do." 
"Kane County has challenges ahead and how are we going to get from point A to point B to make sure it's best for all of us, that is the challenge I leave with you," said Pierog.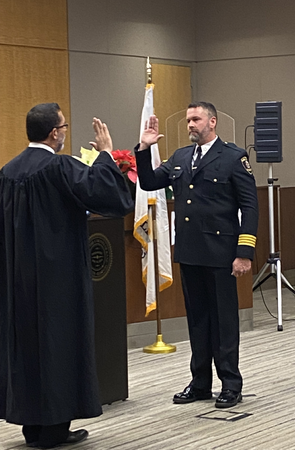 Kane County Sheriff Ron Hain also took the oath of office for his second term during Monday's ceremony, and credited his positive relationship with the county board in helping him reach his accomplishment of turning the Sheriff's Office into a national model. 

There are seven new members on the Kane County Board.   They include: Richard "Rick" Williams, Michael Linder, David Young, Gary Daugherty, William Tarver, Leslie Juby and Bill Roth.