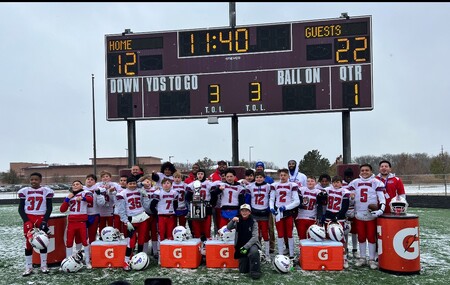 Aurora Youth Football Team Punches Ticket to National Championship
Kane County Connects Staff 11/26/2022 1:00PM
The 2022 journey for the Aurora Gators began with three goals; an Illinois State Championship, a Midwest Regional Championship and a trip to Orlando to compete for the National Championship.

The boys went 6-1 in the regular season with the loan loss coming at the hands of two time defending D1 National Champion Portage Indians 22-14. The Gators went on to win the Illinois Pop Warner State Championship on November 6th beating the Addison Cowboys 32-21 sending them to the Midwest Regional in Chesterton Nov 19th, where it was 27 degrees with snow. The Gators knocked off Merrillville 22-12 to punch their ticket to the Nationals in Orlando.
The young Aurora Gators champions will be just one of 8 teams competing for the Division 2 National Championship title in Florida. As they represent Aurora, the state of Illinois and the entire Midwest region, they also make history as the first team to compete for the national title.
Team members come from all over the Fox Valley area including, Aurora, North Aurora, Batavia and a few from Oswego. The majority reside in Kane County.

The Gator program has been around since 2008 originally known as the Fox Valley Gators until 2015 at which time the program affiliated itself with West Aurora High School. The organization is fortunate enough to practice at West High and have all our home games there as well. In 2019 Drew Tolliver became president of the Gators organization, Drew had been involved with the Gator program from 2012-2018 where he coached his son Kam. Kam was the starting Sophomore QB at West Aurora this past season. With all the concussion concerns surrounding tackle football around 2018 and kids leaving Aurora to play for other organizations, the numbers for the Gator program had drastically declined , then Gator President Wally Spagnolia passed the torch to Drew In 2019. Drew came in with a mission of keeping Aurora football talent in Aurora and putting together competitive football teams at all ages and more importantly giving the at risk youth from the community a safe place to go. The Gators football program helped keep these kids off the streets, it gave them purpose and the game taught them about teamwork, discipline, hard work and building new friendships.
The Aurora Gators are hoping to offset some of their expenses on their trip to Orlando through a GoFundMe account. The page can be found by googling: @auroragatorsfycl This will bring up all Gator social media Or go on Facebook and Search: Aurora Gators Youth Football and Cheerleading.
 Source/submission by Ryan J Dolan and City of Aurora Facebook page