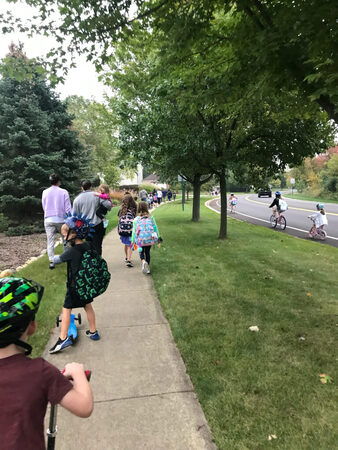 Walk Bike & Roll to School Day is October 12, 2022!
Kane County Connects Staff 9/26/2022 9:00AM
Students and their families are encouraged to participate in the upcoming Kane County Walk, Bike or Roll to School Day, on Wednesday, October 12 2022.
In its 12th year, the event raises awareness of the importance of increasing physical activity by walking or bicycling, in addition to pedestrian safety and concern for the environment.
"There are obvious physical benefits to walking to school, but there is also research that shows active trips to school are good for a youngster's mental development," said Kane County Health Department Executive Director, Michael Isaacson. "Many children, these days, live in such structured environments. Walking or biking to school provides youngsters with practical experience in making independent decisions."
The Kane County Health Department, through its program, Making Kane County Fit For Kids, also provide a $150 stipend to parent/teacher organizations or schools that take part in the walk. Fit for Kids goal is to reduce childhood obesity includes guiding efforts on the local level through countywide mobilization.
Making Kane County Fit For Kids strategies affect all of Kane County children, families and communities.

To register your school for the 2022 Walk, Bike, Roll to School event,
click here
or visit the Making Kane County Fit For Kids website.
Making Kane County Fit for Kids (Fit for Kids) is a 501(c)(3) nonprofit organization that promotes healthy eating and active living initiatives to reduce Childhood Obesity in Kane County. Across Kane County, 36.9% of 5-17-year olds are overweight or obese, at risk for diabetes, heart failure, and other chronic diseases that could shorten their lives (Data Source: Kane County's 2018 Community Health Assessment). While there are national and state policies that can create change, Fit for Kids goal is to encourage a culture of health on the local level through countywide mobilization. Maximizing efficient impact, Fit for Kids collaborates with community organizations, schools, day care centers, municipalities, and other partners by funding implementation projects that support the Fit for Kids 2020 Plan, a blueprint to create a Kane County that is "Fit for Kids". Strategic Action Principles include the following: 1) Provide parents and children with reliable, up-to-date information in multiple settings regarding healthy physical activity and eating habits. 2) Support a culture of wellness and health promotion in our schools, workplaces, and other institutions. 3) Develop land use, planning, and other public policies that foster and support physical activity for all in our community. 4) Assure that fresh fruits and vegetables are affordable and accessible to all families in our community. Strategies affect all Kane County children and families, with particular attention to children most vulnerable or disproportionately affected. Since 2009, Fit for Kids has supported over 110 healthy implementation projects, such as community gardens, bike racks, refrigerators at food pantries, nutrition workshops, Link Card accessibility at farmers markets, safe route education/signage, demonstration wellness kitchens, heart rate monitors and salad bars at schools, playground equipment, and hosting 10 annual National Walk to School Day events.