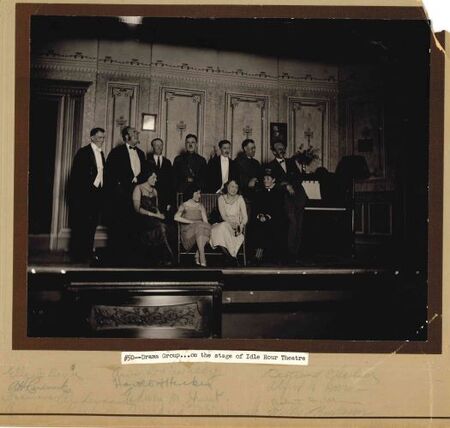 Historic Theater Building in St. Charles Receives Landmark Status
Preservation Partners of the Fox Valley 12/3/2022 9:00AM
On Monday, November 21, 2022, the St. Charles City Council approved the Idle Hour Theatre at 7 S. 2nd Ave. as a local historic landmark.
The theatre, soon to reopen as Moonlight Theatre, was one of several that operated in downtown St. Charles in the early 20th century and is the only one remaining that pre-dates the Arcada Theatre.

HISTORY:  The theatre was constructed between 1904 and 1908 by Alex Roche according to the landmark application submitted to the St. Charles City Council. It is unclear what the building was used for until it opened on November 28, 1914 by Frank Hunt and Dr. Charles Potter as a theatre. (1)

The theatre held a naming contest and announced the winning name, "Idle Hour," at the beginning of the following year. (2) The owners appeared to like the originality and descriptiveness of the name since shows usually lasted around an hour.
The original entrance to the theatre was at what is now 117 East Main Street, directly across from its competitor, the Star Theatre (torn down in 1925). The entrance was a narrow hallway that led into the 325-seat theatre. Silent films, serials (like soap operas of today), vaudeville acts, comics, musical acts, and more delighted audiences for over a decade.
The opening of the Arcada Theatre pushed the Idle Hour out of business in 1926. For the next 40 years, the theatre was mostly used as storage for Delnor Hospital, the Hotel Baker and others. (3)
In 1968 an architecture firm purchased and renovated the theatre but kept some of its features, including the 16 by 50-foot stage. (4) They also added the façade and double doors that still exist on the building's now 2nd Avenue entrance. Soon, a renovated theatre, Moonlight Theatre, will return the Idle Hour back to its roots as an entertainment venue in downtown St. Charles.
(1) "Opening Show at the New Theatre," St. Charles Chronicle, November 26, 1914, 7.
(2) "New Theatre is Christened," St. Charles Chronicle, January 7, 1915,
(3) Betty Forkins, "Idle Hour Theater (sic) Not So Idle," in Landmark Application – 7 S. 2nd Ave, 34. Dorothy DeWhitte,
(4)"Historic Landmark Remodeled for St. Charles Architect Group," St. Charles Chronicle, October 16, 1968, 20.
Source/Preservation Partners of the Fox Valley