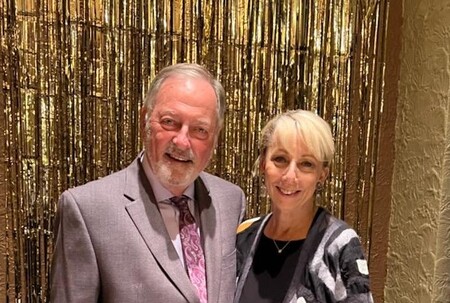 St. Charles Residents Recognized for Community Involvement
Kane County Connects Staff 10/14/2022 7:00AM
TriCity Family Services will present the 38th Annual William D. Barth Award on Wednesday, October 19 to Bob and Sue McDowell. The award will be presented at the agency's Barth Award Dinner between 5-8pm, at Riverside Receptions and Conference Center in Geneva.
The Barth Award honors the memory of William D. Barth, a founder of the agency and a dedicated community leader. The honor is given to someone whose belief in the community and concern for those living here is shown by an ongoing involvement in community life.

Nominated for their incredible love and devotion to their community. Bob and Sue McDowell established their remodeling company in 1971 known as McDowell Aluminum. Their emphasis was on personalized client care, creative design and excellent workmanship. Bob is the Board President at Lazarus House and has been a volunteer for the past 20 years. He helped design the new medical clinic for Tri-City Health Partnership enabling them to meet the health and dental needs of many in our communities. Bob also has assisted the Fox Valley Hands of Hope with the renovation of their offices.
Sue is the Board President for the St. Charles Singers, founder of the St. Charles Art Council and founder of the St. Charles Fine Arts Show. She has been involved in the Delnor Hospital Auxiliary, St. Charles Heritage Center, St. Charles Chamber of Commerce and Downtown St. Charles Partnership. When our tri-cities have called for a need, the McDowells have responded.
Past recipients of the William D. Barth Award include the following :Northwestern Medicine – Delnor 2021, Dr. John Mason, 2020, Loy Williams, 2019, Melinda Kintz, 2018; Dudley and Judy Burgess, 2017; The Honorable Clint Hull, 2016; Carolyn Fabian, 2015; Joanne Spitz, 2014; Fred Norris, 2013; Carolyn Sprawka, 2012; Sarah Kimber, 2011; James Kintz, 2010; Mary Lu O'Halloran, 2009; Pam Mann, 2008; Doris Hunt, 2007; Cris Anderson, 2006; Steve Lillie, 2005; Peg Halladay, 2004; Vernon Oie, 2003; Melinda Hinners, 2002; Darlene Marcusson, 2001; Betsy Penny, 2000; Marjorie Hissong, 1999; Robert Hawse, 1998; Carol Rosene, 1997; Ralph & Lucile Little, 1996; Vernon Guynn, 1995; Howard Wallin, 1994; James Abbot, 1993; Joanne Hansen, 1992; Max Hunt, 1991; Russell Forkins, 1990; Nellie Wood, 1989; Nancy Temple, 1988; Glen Haines, 1987; Jim McCausland, 1986 and Frank Burgess, 1985.
To learn more about TriCity Family Services, visit www.tricityfamilyservices.org or call 630.232.1070.
Source: TriCity Family Services Media Release