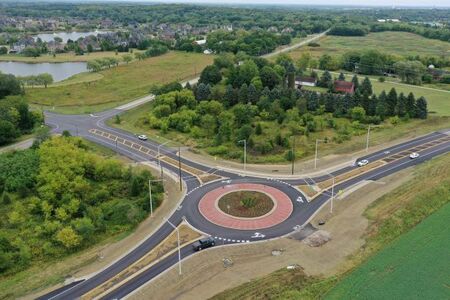 What's the Word on Roundabouts?
Kane County Connects Staff 8/15/2022 6:00PM
Kane County is about to add to its list of roundabouts. A circular intersection is part of the realignment project underway at Fabyan Parkway, Main Street and Bliss Roads in Blackberry Township. The overall project is part of Kane County's efforts to provide an alternative continuous north/south corridor between Randall Road and IL Route 47. When the single four-legged oval shaped roundabout at Main Street is completed, there will be 4 roundabouts on the county highway system.
But what is the advantage of installing a roundabout? A roundabout provides an innovative solution to common transportation problems. The roundabout intersection eliminates the need for a traffic signal which improves the flow of traffic, reducing noise and air pollution.
The roundabout saves money on construction material, electricity use and cuts down on maintenance costs. Only one approach lane is needed for a roundabout, compared to three approach lanes for a traffic signal. Vehicles can enter it when they're ready to do so without having to wait until the traffic signal completes its cycle.
Roundabouts have also proven to be safer. The shape of a well-designed roundabout makes it very difficult for entering traffic to use excessive speeds, making it much easier and safer to drive through than a high-speed traffic signal. Good visibility, careful design and no crossing movements means that the type of crashes are less devastating and cause less damage and injury.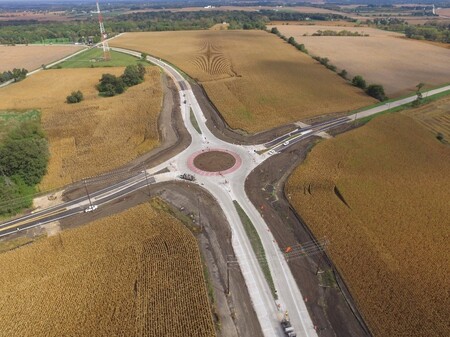 How to drive a roundabout:

• Yield when you approach a roundabout and watch for pedestrians in the crosswalk, if one exists.
• Look to the left as you near the dashed yield line and yield to traffic already in the circle.
• Once you see a gap in traffic, enter the circle and proceed to your exit. Look for pedestrians as you exit and make sure you stay in your lane as you navigate the roundabout. (source: IDOT)
Here's where roundabouts are currently located in Kane County:

• IL 47 at Plato Rd

• IL 47 at Burlington Rd
• Burlington Rd and Bolcum
Here's where more roundabouts are proposed in Kane County:

• Fabyan Parkway, Main Street and Bliss Roads (construction 2022-23)
• Bunker & Keslinger Roads (construction anticipated in 2024)
There is also a municipal roundabout in Aurora at the intersection of Sullivan Road and Highland Ave.

Keep update on all improvement plans and projects at the Kane County Division of Transportation
website
.