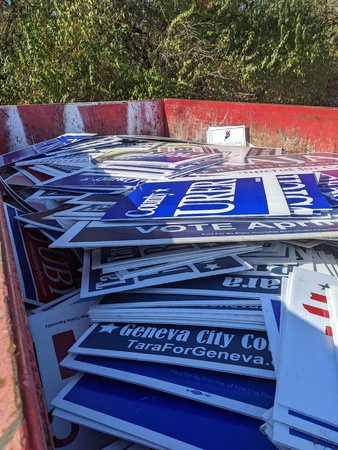 A Winning 'Campaign Sign' Recycling Event
Kane County Recycling Coordinator Clair Ryan 11/30/2022 12:00PM
Kane County Recycling Program's first ever campaign sign recycling drive was a success by all measures. Volunteers filled a 30-yard container with plastic signs that can now be recycled.
Kane County Recycling Coordinator Clair Ryan estimates that the effort collected about two tons of plastic. The signs are made of polypropylene, a.k.a. plastic number 5, the same material used to make yogurt tubs and other opaque plastic containers. This material is recyclable, but recycling sorting facilities are designed to process three dimensional plastic containers, not flat signs, and can't sort them properly if they go into curbside recycling bins.
Kane County residents and candidates for office can expect the program to return for future elections with minor tweaks. For example, Ryan says they will definitely repeat the collection of signs at Kane County recycling centers, but probably will not hold staffed drop-off hours at the Government Center. Why? At least 95% of the signs received came in through the centers.