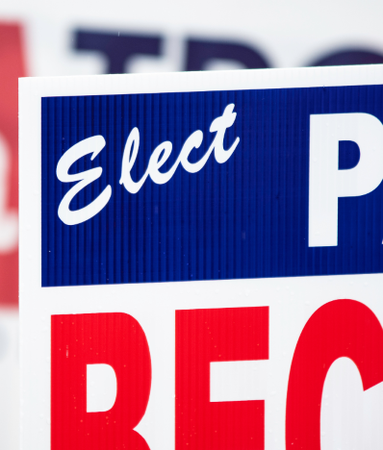 Kane County to Host Free Campaign Sign Recycling
Kane County Connects Staff 11/9/2022 6:00AM
What happens to all those political signs after the election? Some candidates diligently collect their signs for use in future elections.
Reuse is best. However, there are inevitably some unwanted signs, which can be recycled, but not in single stream carts or dumpsters. Kane County's Recycling Program is hosting free campaign sign recycling this month! Want to help us spread the word?
Please download and share this
flier
.
There are two ways that citizens and candidates can recycle their unwanted corrugated plastic signs and metal stands:
• Drop them off at the Batavia or West Dundee recycling centers during regular hours between Wednesday, November 9 Thursday, November 17 (though please note that both locations will be closed on Friday, November 11 for Veterans Day). The Batavia location, 517 E. Fabyan Parkway, is open Monday - Friday, 8:00 a.m. to 4:00 p.m., while the West Dundee location, 900 Angle Tarn, behind the West Dundee Dept. of Public Works, is open Monday - Friday, 7:00 a.m. – 3:00 p.m.
• Bring signs to the Kane County Government Center, 719 S. Batavia Avenue in Geneva on Friday, November 18 from 3:30 p.m. to 6:00 p.m., or Saturday, November 19, from 9:00 to 11:30 a.m. The drop-off point will be near the end of the long, curved driveway, adjacent to the Forest Preserve. We will only be recycling corrugated plastic signs, which are rigid and about a quarter inch thick (see photo) and their metal stands.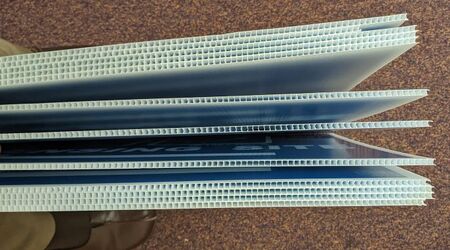 Please remove the stands from the signs before drop off. We cannot accept signs made of plastic film or any other materials. If you've been in touch with a political party, campaign or candidate, we recommend that you check with them about whether they plan to collect their signs for reuse before taking them for recycling. We will accept signs from past and present Kane County elections.
The event is intended for private property owners and political candidates, not for public agencies collecting mass quantities of signs from rights of way.
If you have questions, please reach out to Kane County's Recycling Coordinator at recycle@countyofkane.org or 630-208-3841.