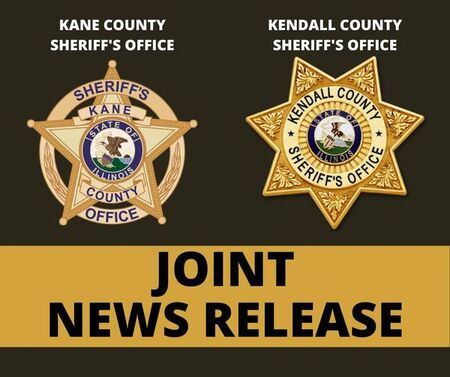 New Public Safety Partnership in Kane/Kendall Counties
Kane County Connects Staff 7/27/2022 11:00AM
​
Kane County Sheriff Ron Hain and Kendall County Sheriff Dwight Baird announce a new partnership to house Kendall County inmates.
As we approach the January 1, 2023 implementation of the cashless bail system provided in the SAFE-T Act legislation, sheriffs from around the state began reviewing how this new bail system will impact their inmate counts. Kendall County Sheriff Dwight Baird's review led him to look at alternatives to be fiscally responsible and still fulfill his duties as they relate to the care and custody of inmates remanded to his custody. The new bail system is forecasted to drastically reduce the inmate count in Kendall County to the point that outsourcing inmates to another county jail in the region became a practical alternative to continuing to operate a county jail in Kendall County.
Sheriff Baird and Kane County Sheriff Ron Hain have worked closely together over the years and when they had discussions about this concept it quickly went from conversation to reality that the Kane County Jail could provide housing for Kendall County detainees.

The Kane County Jail will still need to operate based on their incarcerated population, but after taking into account the anticipated reduction due to the new bond system, Kane County would have ample space to accept the Kendall County inmates. Kendall County will pay Kane County to house their inmates while saving their citizens millions of dollars. The analysis shows that this concept will also provide unforecasted revenue to Kane County, all the while ensuring that the needs of the arrestees remanded to the custody of the Sheriffs are met.
Kendall County Sheriff Baird notes that Kane County Sheriff Ron Hain has created a myriad of detainee service programs that have reduced the opioid overdose deaths of the formerly incarcerated by 89%, dropped recidivism from a six-year average of 49% to 18%, helped to reduce countywide crime by 16%, and saved taxpayers an estimated $4.9 Million. Kendall County inmates will have access to all of these programs that are already in place.
Sheriff Ron Hain said, "we have been working behind the scenes on a concept like this to combine correctional centers in an effort to serve those with severe addiction issues and save our taxpayers millions by regionalizing services. Also, our lateral hire opportunities will help to ensure Kendall County Officers are not left without employment. We are extremely proud to bring this to fruition."
Sheriff Dwight Baird said, "Combining our jail operations and working together to serve our citizens is an example of partnership and collaboration. By working together, we save taxpayer money and the inmates from Kendall County will have access to the same detainee services as Kane County inmates. It has been an honor and privilege to work with Sheriff Hain over the past 3 and a half years and I look forward to working more closely to keep our counties safe."
Sheriff Hain and Sheriff Baird look forward to further discussions with their respective County Boards to explore all of the options available and the best solutions for the citizens of both counties. A final decision on this matter has not been made at this time.