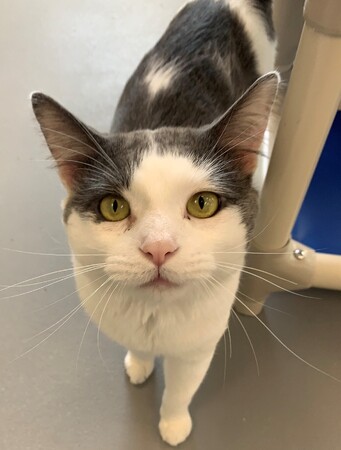 Adoptable Pet of the Week: Tommy
by Tecla Metzel of Kane County Animal Control 8/22/2022 7:00PM
Question: Can a 3-year-old neutered white and black Domestic Shorthair surrendered to Kane County Animal Control due to allergies find happiness once again with a new family?
Answer: We at KCAC certainly hope so because Tommy is such a handsome, sweet boy that just wants to please everyone.
Any family would be proud to call him a family member. A little bit shy until he begins to know you, Tommy might be considered stand-offish at first, but it's only because he enjoys his private time. His need for some cuddling and petting is on his terms but he's recently become very social…and vocal.
He now enjoys getting petted and will even verbally demand it. Once he's had enough from one person, he goes on his way toward someone new all the while letting everyone know he's ready for more petting.
All in all, Tommy is a very relaxed cat that will make a wonderful companion for someone who wants a little older friend. He doesn't mind other cats and seems as though he welcomes their attention. He already knows what having a home is like and he's more than willing to slide right into all that it means to be a member of a
family.  

Are you ready to open your door and your heart to Tommy? He's ready for you.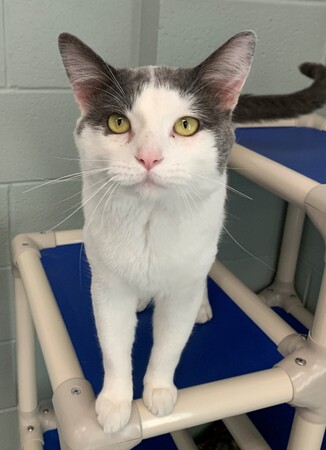 How to Adopt For more information regarding Kane County Animal Control's adoptable animals and for an adoption application, please go to www.kanecountypets.org. All Kane County Animal Control adoptable cats and dogs are spayed/neutered, microchipped, up-to-date on all vaccines including rabies. They are tested for feline leukemia/FIV and heartworm. The adoption fee for dogs is $200 and $100 for cats. Adoption of two dogs is $300 and it is $150 to adopt two cats.
"The cat could very well be man's best friend but would never stoop to admitting it." – Doug Larson, author of The Last Stand: A Journey through the Ancient Cliff-Face Forest of the Niagara Escarpment