Kane County to Provide Free VA Clinic Rides to Qualified Veterans
Kane County Connects Staff 6/12/2023 6:00AM
​Starting on June 12, 2023 applications will be available to Kane County Veterans for the 'Ride in Kane' program that offers FREE rides to and from local VA Clinics and the Veterans Treatment Court.  'Ride in Kane' operates through Pace Suburban Bus to provide curb-to-curb, handicap accessible transportation.

County residents who are enrolled in the VA health system are eligible for the free trips to the following locations:
Hoffman Estates VA Clinic – Hoffman Estates IL


Aurora VA Clinic – North Aurora IL


Aurora Vet Center – Aurora IL


​Veterans Treatment Court– Kane County Judicial Center, St. Charles, IL 

To be eligible, a veteran has to provide proof of residency in Kane County through a government issued photo ID along with proof of enrollment in the VA Health Care System.  The rides are FREE to qualified Veterans.
To apply for the Veterans 'Ride in Kane' program contact the Kane County Veterans Assistance Commiss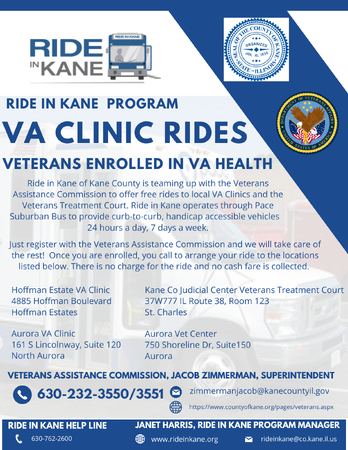 ion at 630-232-3550/3551 or email Jacob Zimmerman at
zimmermanjacob@kanecountyil.gov
.
The Kane County Board approved using $75,000 in federal recovery funds to cover the cost of the free rides for eligible veterans.
For more information about the 'Ride in Kane' program go to RideinKane.org or you can contact Janet Harris, 'Ride in Kane' Program Manager, at harrisjanet@co.kane.il.us. You can also call the Ride in Kane Help Desk at 630 762-2600.