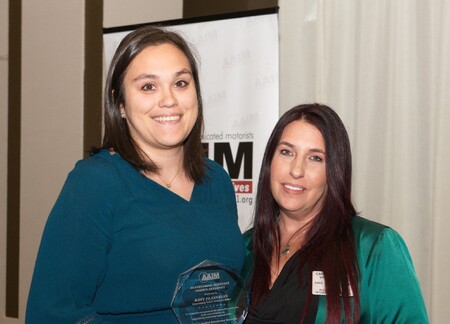 Kane County Asst. State's Attorney Recognized for Work to Keep Roads Safe from Impaired Drivers
Chris Nelson, Kane County State's Attorney's Office 11/13/2023 6:00AM
Kane County State's Attorney Jamie L. Mosser announces that the Alliance Against Intoxicated Motorists has recognized Kane County Assistant State's Attorney Katy Flannagan for her work to keep roadways safe from impaired drivers.
AAIM recently presented Kane County Assistant State's Attorney Katy Flannagan with its Outstanding Assistant State's Attorney Award for 2023.

"I was humbled, honored and very appreciative," ASA Flannagan said of receiving the honor. 

It is the second time ASA Flannagan has been recognized for her work as a DUI prosecutor. In 2022 she was named a MADD Hero by Mothers Against Drunk Driving for her DUI enforcement work.
ASA Flannagan has been supervisor of the DUI and Major Traffic Unit since Spring 2022. 
However, her passion for prosecuting DUI offenses has been demonstrated over her many years as a prosecutor. During the past year, she had more than 80 pending felony DUI cases at any given time. Many of the cases involved crashes that caused serious injury or death as a result of impaired driving.

"They're all memorable," ASA Flannagan said of the many DUI cases she has prosecuted. "I can picture the faces of all of the fatalities. I remember all of the victims' names and everything that happened. The fatalities are worse. There's nothing you can say or do. Nothing you do changes anything."

AAIM's victim advocates, including Carrie Kilpatrick, nominated ASA Flannagan for the award.

"She is phenomenal," said Kilpatrick, who lost her 17-year-old son, Nicholas, in a 2014 DUI crash. "She treats every family as if it were her own. She gives every family the feeling that they are heard when they feel they have no control. She gives them a voice. She always goes above and beyond. She's who you want on your side."
Through October of 2023 the unit has had 311 new felony DUI cases, which is on pace to surpass the 360 new felony DUI cases charged in 2022.

Included among the 2023 cases are 16 felony DUI cases involving great bodily harm or death, surpassing the 12 felony DUI cases involving great bodily harm or death in 2022.

SA Mosser said: "ASA Flannagan has a strong commitment not just to justice and public safety, but also to the victims and families of those affected by the crimes she prosecutes. Doing this difficult work on behalf of the victims means a great deal to her. Her dedication to maintaining a safe community sets an important example for everyone in our office. I am grateful that she is a part of this office."