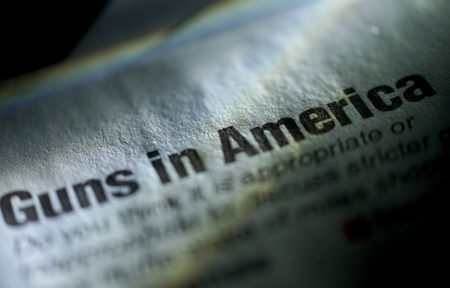 UPDATE: Kane County Hosts Gun Buy-Back Program
Kane County Connects Staff 8/30/2022 8:00AM
UPDATE
Over 100 guns were turned over during a buyback program hosted by the Kane County Sheriff.  The majority of the guns were old rifles and revolvers that people just had no idea how to get rid of. One woman said that she thought about selling the gun but was worried what would happen with it after it was resold. She said she was thankful for the event. 
Due to the turnout the second event on Sunday was cancelled. The Sheriff Office plans to meet with their community partners and evaluate the need for holding future events. The Sheriff's Office, Aurora Police Department, and Kane County Health Department want to thank our partners with Christ Community Church for helping us hold this event.
-------------

On August 27 and 28 from 9 a.m. - Noon, Kane County Sheriff Ron Hain, in partnership with the Kane County Health Department and the Aurora Police Department, will host a firearm buy-back program at the Health Department Office, 1240 N. Highland Ave. in Aurora. The event is the result of a series of meetings with community members in Aurora spearheaded by Kane County Board Chair Corinne Pierog.

"Kane County's Gun Buy-Back program is another step towards reducing gun violence by taking unwanted guns off of the streets, as well as helping to educate our communities on strategies to support the reduction of shootings and gun related suicides," said Board Chair Pierog. "With the recent mass shooting in Highland Park, and the targeted shooting at Six Flags Great America in Gurnee, Kane County's Gun Buy-Back program is uniting the public outcry 'to do something' and best practices to keep our families and children safe."

The event will be a drive-up style, no questions asked drop-off. Participants are asked to leave the unwanted firearm(s) in the trunk of their car. Designated personnel at the event will remove the item(s). THE WEAPON MUST BE UNLOADED at the time it is surrendered.

"We hope that turnover of unwanted, operational firearms from our citizens will decrease the likelihood of accidental injury or death and guns being stolen from homes and later used in the commission of crimes," said Sheriff Hain.
Anyone turning in a firearm will be provided with a $100 gift card in return. This is for firearms only. "Preventing gun violence must include a broad approach that identifies the underlying causes and risk factors including mental health, trauma, substance use and social influences," said Kane County Public Health Executive Director, Michael Isaacson. "We are developing new strategies that treat gun violence from multiple angles."
Sheriff Hain would like to thank Community Christian Church in Aurora for donating the gift cards. Anyone with additional questions regarding this program are encouraged to contact the Kane County Sheriff's Office at 630-208-2000.