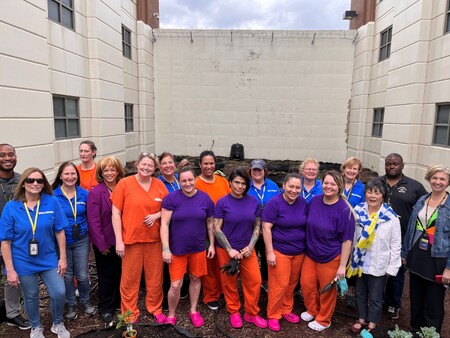 Retooling Lives for Women in the Kane County Jail
Kane County Connects Staff 5/29/2023 12:00PM
​
Less than 10% of the jail population at the Kane County Jail in St. Charles is female.  Many of them enter the corrections system with mental health and/or substance abuse issues, have been the victims of domestic violence or struggle with a lack of housing and unemployment.  For those women, their second chance at a productive life starts when they find themselves incarcerated and in the care of Judy Dawson.  Dawson works for Kane County Sheriff Ron Hain and for the past five years, she has been in charge of creating specialized programs and treatment opportunities for residents of the adult corrections facility. 
The goal is to provide positive life paths for nonviolent offenders who want to better themselves while driving down recidivism and crime rates.
"Under the leadership of Sheriff Hain, the recidivism rate at the end of 2021 was 18%, down from a high of 49%," said Dawson. "We are not only saving taxpayer dollars; the detainees who thrive in the Sheriff's programs are now taxpaying citizens."
Dawson says the outreach to female inmates is rooted in learning new disciplines and life skills like anger management, addiction recovery, better parenting, setting boundaries and employment readiness.   

But there are also mentoring programs.  Each year, volunteers from the   Geneva Garden Club come to the jail to work with the female detainees to create a community garden where they work together to grow vegetables.  The experience is both educational and supportive. The harvest is donated to a local food pantry and Dawson hopes to establish a hydroponic garden to keep the program going year-round. 
In addition, an entrepreneur program guides detainees who have  ideas for a business to develop their plan with the help of experts, and then pitch it to a group of people in the business world. Dawson says at least two detainees took their business plans and turned them into a real-world opportunity, creating a catering operation and a transportation company.  

No taxpayer money goes towards the operation of the detainee programs.  Instead, they are paid for through grants, donations and profits from the jail commissary.
Dawson says she knows there are skeptics. She says people who question the need to spend time on individuals who are behind bars need to ask themselves what they want the narrative to look like if that person is your neighbor. "Don't you want them to have a job?"
The Kane County's Sheriff's also offers detainees programs to get a high school diploma (GED), learn to operate a forklift, take parenting classes, chef class, food safety certification, English as a second language, barbering, religious support tattoo removal and employment preparedness.   
Even after an individual is released, support continues. "It's not a one and done," according to Dawson.  "We encourage people to come back through the front door of the Sheriff's office if they need help and we will help them."