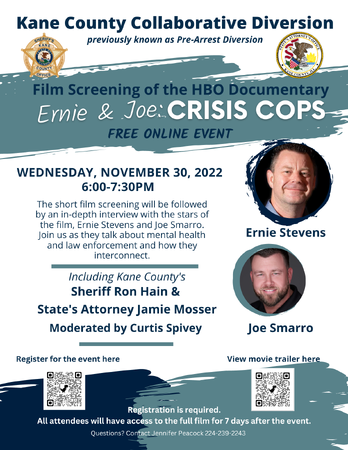 Free Screening of Impactful Documentary about Police and the Changing Response to Mental Health
Kane County Connects Staff 11/19/2022 1:00PM
​

ERNIE & JOE: CRISIS COPS is an intimate portrait of two Texas police officers who are helping change the way police respond to mental health calls.  The film takes audiences on a personal journey, weaving together these two officers' experiences during their daily encounters with people in crisis.  These two officers are not your everyday cops. They are part of the San Antonio Police Department's Mental Health Unit.

The documentary has been screened hundreds of times as part of an engagement campaign the officers and the director  created in conjuction with the film in hopes of stirring up discussion about mental health and law enforcement.

Kane County's Collaborative Diversion division is offering a free online screening of the film along with a follow-up discussion with the Kane County Sheriff and State's Attorney and the officers who appear in the film.   The screening is set for Nov 6 at 6 p.m.   Learn more by clicking on the flyer. 

For resources and to find out more about the film go to ernieandjoethefilm.com