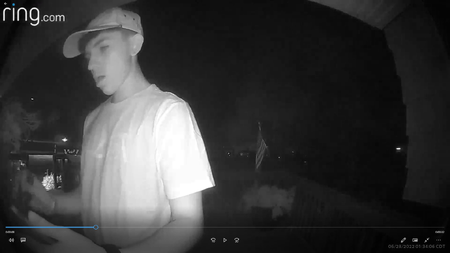 Teen Caught on Ring Doorbell Sought in Mailbox Incident
Kane County Connects Staff 7/1/2022 2:00PM
On June 28, 2022 at approximately 1:30 a.m. Kane County Sheriff's Deputies were dispatched to a residence in the 600 block of Gilbert Terrace in unincorporated Aurora Township for a report that a mailbox had been blown up.

Upon arrival deputies learned that a residential US mailbox, which was attached to a residence, was blown up by a subject who placed an unknown explosive device into the mailbox.

The house has Ring Doorbell and the subject was recorded. The subject appears to be a male in his later teens wearing a baseball hat. The subject ran from the area prior to the mailbox blowing up.
KCSO detectives and members of the Kane County Sheriff's Office Bomb Squad are investigating this incident.
Anyone who may think they recognize this subject in the photo are asked to call detectives at 630-444-1103.

You can submit a tip though the Kane County Sheriff's Office App which can be downloaded through the App Store or Google Play.