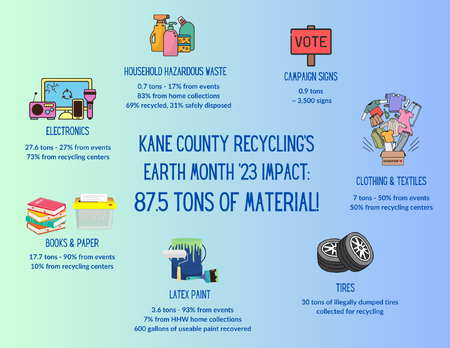 Putting Waste in the Right Place by the Ton in Kane County
Kane County Connects Staff 5/16/2023 12:00PM
​
There are several ways to recycle unwanted items in Kane County that are environmentally responsible, cost effective and save you time and space.  
​Kane County has three recycling centers that are open year-round.  They are located in Batavia, East Dundee, and Aurora.  There is also an independently operated center in Elburn.  Click here for more details.
Throughout the year, Kane County's Recycling program also hosts events.   The first was in April during Earth Month and the collection was impressive:

15.3 tons of paper

3.4 tons of latex paint, which should yield approximately 560 gallons of paint for recycling
2.7 tons of clothing, shoes and home goods
135 aerosol cans and 45 small propane tanks (weight = 234 lbs/0.1 tons)
The total was 21.5 tons and to put that into perspective, that's about the weight of a commercial passenger bus.

But the collection numbers the Kane County Recycling program are receiving so far this year continue to impress.  According to Recycling Coordinator Clair Ryan, program wide (including recycling centers, all public events, the household hazardous waste home collection, and one non-public event for dumped tires), 87.5 tons of material was recycled in the month of April. (see chart)
New this year was a recycling event for campaign signs following the April election; 3,500 signs were collected and kept out of landfills.
On June 3, 2023 there will be a pop-up recycling opportunity in Aurora at 994 N. Lake Street. 
Kane County's next large recycling event is set for July 22.   Click here for more about these events.