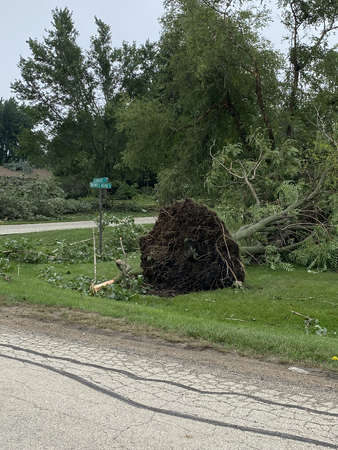 Tornadoes Confirmed in Kane County
Kane County Connects Staff 7/13/2023 9:00AM
​

UPDATE: The National Weather Service survey teams in the field in Kane County confirms a tornado in Elgin with a maximum intensity EF-1 and maximum wind speed of 100 mph. The track roughly started east of Rt. 47 and ended near the railroad tracks west of Villa Olivia Golf Course. 

They have also confirmed a second tornado in Elgin just to the south of the first tornado track. This tornado had a max intensity of EF-0 with max wind speed of 85 mph. The tornado began close to McDonald Rd and ended along Hopps Road. 
Tornado warning sirens could be heard blaring in multiple Kane County communities yesterday as 'supercell' storms fueled by the warm weather roared across northeastern Illinois.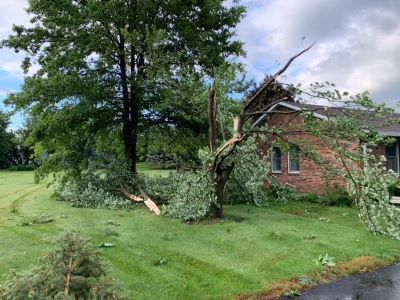 Storm damage has been reported in South Elgin, Lily Lake, Huntley and Elgin.  The first tornado track hit the Edgewater (Del Webb) subdivision at Bowes and Randall Roads.  Initial reports indicated 19 homes were affected in the vicinity of the 2800 block of Stoney Creek Drive.  Ten sustained significant damage and nine more sustained significant cosmetic damage.  

Kane County's Office of Emergency Management (OEM) is also reporting varying degrees of damage to as many as 20 homes in an unincorporated area near Bowes and Crawford Road.  Numerous large trees were also downed. Kane County's Development Department will be working with OEM to assess the damage.

OEM also assisted with relocating affected residents who were unable to make alternative housing arrangements.  The Kane County Division of Transportation (KDOT) cleared downed trees on Bowes Road, west of Randall Road, as the Sheriff's office responded to emergency calls and rerouted traffic.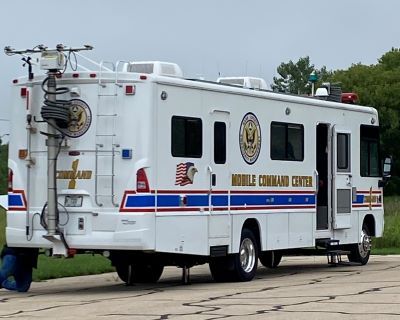 OEM officials caution residents to be aware of potential after-storm scammers traveling through storm-damaged areas offering repairs. The Better Business Bureau offers tips for residents​ on how to protect yourself from 'storm chasers.'
Kane County Board Member Vern Tepe, a resident of the Edgewater community in Elgin where damage occured, spoke at the Judicial and Public Safety Committee meeting this morning about the incident and the County's response.​

"In particular what I'd like to do is to really commend the Kane County Emergency Management team, the City of Elgin with their team, Elgin police, and our own Sheriff's department for the way they handled things," Tepe said.  "Even though this happened at 6:30 p.m., believe it or not, all of the people that were displaced were taken care of by 10 o'clock last night, and all of the streets were in effect cleaned up," he added.  "I really want to commend those emergency departments for doing a phenomenal job in taking care of things.  Nobody was injured, we're all appreciative of that, and I'm sure that it'll be a decent about of time before they get back in their homes," he said.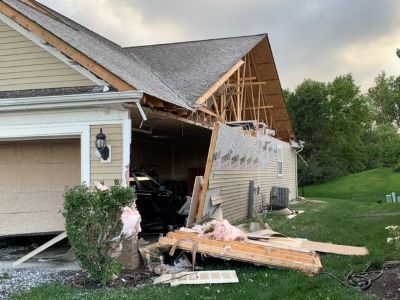 "The way things were handled here in Kane County were just commendable and we all need to be proud and continue to support those organizations," Tepe said. 

Kane County Emergency Communications (KaneComm) Director Michelle Guthrie also addressed the Board and said new technology helped "tremendously" during the weather event. 

"It was a very busy evening last night, to add to that some of the technology that we put in place, actually in June, was tremendously helpful," Guthrie said.  "We implemented something called CAD-to-CAD ... by implementing CAD-to-CAD, when our phones are inundated with activity we still have the ability to share and call for service information between our centers, so if we have an incident such as a structure fire, trees down, or damage from a storm, we can essentially start the call for service and then transfer it over to the neighboring agency," she added.  "This is very helpful when phones are very active, particularly in a storm or a major emergency, so implementing that in June really helped last night with the activity that we had."​​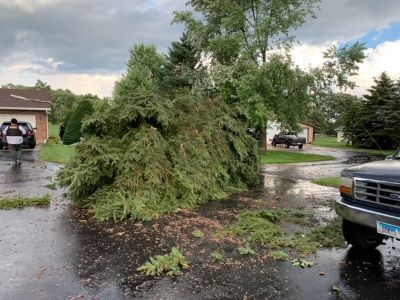 The National Weather Service will be surveying the area to determine how many tornadoes hit the area and their strength.
No injuries have been reported.​