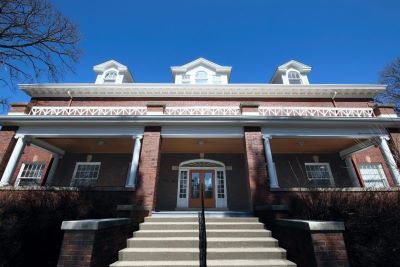 Financing from Kane County's Affordable Housing Fund Produces Award Winning Project
Kane County Connects Staff 6/2/2023 6:00AM
Kane County has an Affordable Housing Fund to provide gap financing for the preservation and/or development of affordable housing for middle- and lower-income households.

A project that received financial support in the form of a $725,000 loan from Kane County's Affordable Housing Fund was 1212 Larkin Ave in Elgin which included the adaptive reuse of Larkin Center, a three-story historic building dating back to 1912.
The 3.4-acre site and historic building were converted into integrated permanent supportive housing for people with special needs, working families and individual renters in need of affordable housing.   
Early this month, the City of Elgin announced that the 1212 Larkin project was the recipient of a 2023 Charter Award from the Congress of New Urbanism.  The award recognizes urban design, placement and community building.  In 2022, the Illinois Chapter of the American Planning Association presented 1212 Larkin with its "Best Practice" award.

Kane County's Affordable Housing Fund is administered by the Kane County Office of Community Reinvestment and provides federal and local financing to both non-profit and for-profit developers for the acquisition, rehabilitation and/or new construction of both homebuyer and rental units.   To learn more, click here.