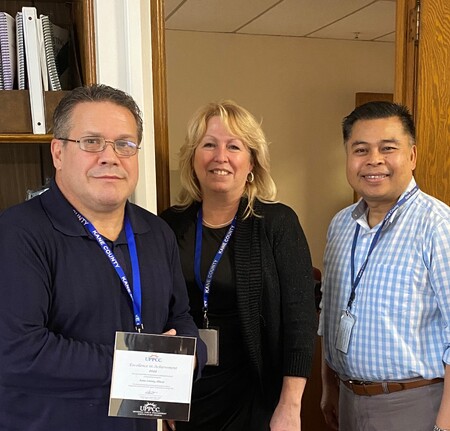 Kane County Staff Recognized for Excellence in Public Procurement
Kane County Connects Staff 2/16/2023 12:00PM
Kane County's Purchasing Department is the recipient of the 2022 Universal Public Purchasing Certification Council (UPPCC) Agency Certification Award for a fourth consecutive year.

The accolade recognizes the expertise and skills of the County's exceptional purchasing staff that have made a concerted effort to maintain a high percentage of staff that are UPPCC certified in the ongoing pursuit of excellence in the field of public procurement.
UPPCC Executive Director, Derrick Strand offered his congratulations to Kane County's Purchasing Department Director Karin Kietzman,CPPB, Assistant Director of Purchasing Timothy Keovongsak, CPPB and Tony Sperkowski Buyer II .
"As you may know, this award was created to formally recognize an agency's commitment to the value of certification in the public sector. Your organization is a fine example of what is becoming a strong indicator of success within state and local governments," Strand stated in a letter to Kane County. "This accomplishment speaks volumes of your agency's commitment and dedication to the profession and the skills and expertise that you bring to the public procurement industry."

Kane County Purchasing Department assists all County departments in the purchasing of required goods and services in conformance with the Illinois Compiled Statutes and the Kane County Purchasing Ordinance.
The UPPCC is an international governing body that has certified more than 14,000 procurement professionals and their employers in the public sector.