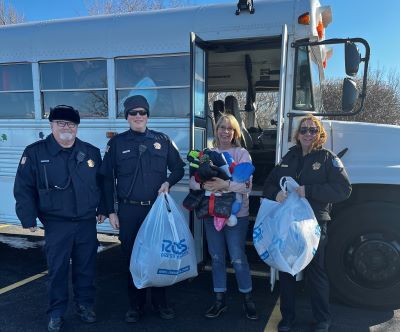 Warm Weather Clothing Drive Brings in Needed Winter Wear
Kane County Connects Staff 12/7/2022 6:00AM
​

The Kane County Sheriff's Office of Emergency Management recently held a coat drive for a charity that provides winter wear for individuals and families in need.  In three hours, the event collected over 230 donations of coats, gloves, hats and scarves for Maddie's Mitten March.
Maddie's Mitten March is a 501(C)(3) charity organization started by Maddie, when she was 10 years old.  She saw some of the students in her school without gloves or mittens and decided to host a mitten drive, that later turned into a weather clothing drive.  Today they focus on distributing winter clothing in Kane County.
Maddie's Mitten March uses two busses to collect, hold, and distribute their donations.  Learn more about their efforts at www.mittenmobile.com.
Two families in need of warm outerwear also came to the event, held in the parking lot of the Kane County Sheriff's Office, and were outfitted in winter clothing that they selected themselves.
The Kane County Sheriff's Office of Emergency Management supports a regional all-hazard approach to disaster management and Homeland Security through the coordination of programs that promote community planning, increase public awareness, and develop effective mitigation, response, and recovery capabilities.  Learn more at www.kcoem.org​.​