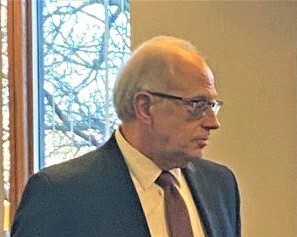 Calling it a Career After 39 Years
Kane County Connects Staff 11/3/2022 8:00AM
When Doug Naughton accepted the job as the Kane County Court Administrator, Ronald Reagan was President, 'Return of the Jedi' was packing movie theaters and the world was still more than 20 years away from the introduction of the first iPhone. That was 1983.
Naughton has served Kane County overseeing the management of the court's non-judicial operations and has provided support for the many judges of the 16th Judicial Circuit. Currently, Kane County has six different courthouse locations and 31 judges.
"The Kane County Court system has been truly fortunate to have had Doug as our TCA (Trial Court Administrator) for 39+ years," said 16th Circuit Court Chief Judge Clint Hull. "His calming personality, reflective decision-making skills and his ability to build relationship on all levels of government have had a positive impact on the way the 16th Judicial Circuit serves and will continue to service its residents He has been an invaluable resource to me as well as all the Chief Judges that preceded me."

During his career he aided in the opening of the Kane County Judicial Center in 1993, guided the court system through security changes following 9/11, and implemented protocols to protect staff and those visiting court from the spread of COVID-19.
"Doug Naughton has been a tireless, dedicated, and passionate Court Administrator," said Hallē Cox, Director of the Kane County Law Library & Self Help Legal Center. "From working with architects and contractors to repurpose existing spaces and build new ones, to vacuuming floors and putting together furniture when maintenance crews weren't available, to writing policies, local court rules, and grants, to making regular presentations to the county board, to giving courthouse tours to local school groups and scouting troops, Doug has done whatever needed to be done to further our justice system and keep it working smoothly," said Cox. "He had an open-door policy and court staff constantly sought out his wisdom and institutional knowledge. I personally deeply enjoyed working under him the last 30 years. He will be missed."
Naughton announced earlier this year he would retire in November. Current Kane County Deputy Court Administrator, Andrea O'Brien, has been promoted as the next Court Administrator.