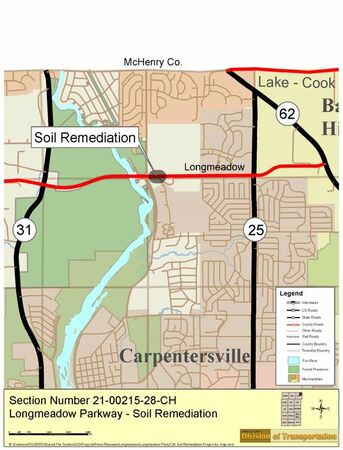 Soil Removal Operation Underway on Longmeadow Parkway Bridge Corridor
Kane County Connects Staff - KDOT 5/4/2023 10:00AM
​

Soil removal operations, which are part of the Longmeadow Parkway Bridge Corridor improvement will start at Longmeadow Parkway east of the Fox River the week of May 8th from the hours of 6 am to 6 pm Monday thru Saturday. 
The operation will involve treating the existing soil pile in layers and then excavating and disposing of each layer in a systematic manner. This work is expected to last for the next 12 months, weather
and work production dependent.
Traffic at the intersection of Longmeadow Parkway and IL 25 may be impacted during the day by increased truck traffic arriving at and leaving the site. This impact may be mitigated by trucks being spaced out throughout the day. Daily temporary lane closures and the use of flaggers or cones to control traffic for construction vehicles entering and leaving the work zone may be required.

Residents living near and/or using facilities near the work zone are asked to avoid the area during construction and exercise caution if in the area during this work. 

Source/ KDOT release