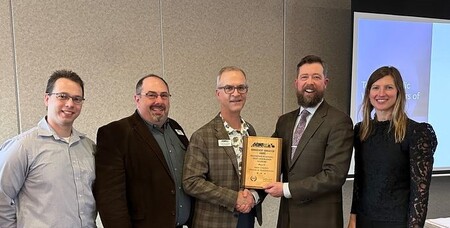 Leadership Program Earns KCDOT Regional Award
Kane County Connects Staff 2/21/2023 10:00AM
The Kane County Division of Transportation (KDOT) has been recognized by industry officials with a Management Innovation Award. The award was given by the Fox Valley Branch of the American Public Works Association (APWA) for KDOT's forward thinking Transition Planning – Next Generation Leaders program. The award is in recognition of KDOT's innovative approach to planning for the organization's next generation of leaders.
Recognizing several impending retirements within the leadership team at the County's Transportation Division, County Engineer Carl Schoedel started discussions with staff in 2019 about how to put in place the next generation of leaders at KDOT.
"Instead of viewing this as a challenge, I saw an opportunity to create new leadership and supervisory opportunities for existing staff," explained Schoedel. "It was important to me to make a difference for future generations of leaders while County Engineer."
The resulting effort has provided exposure to training and information while existing leaders remain with the organization and are able to help guide the succeeding leaders. The positive impacts on the organization flowed out of the Transition Planning process soon after the program started. Throughout the ongoing Transition Planning meetings, the leadership team was working on incremental changes within the organization to provide promotional opportunities to staff and reorganize the way work is done. Significant changes were made to the internal structure of the organization to align with the transition planning philosophy of providing opportunities for professional growth, cross-training while experienced staff remains on the job, and planning for the future health of KDOT.
 "The County Board Transportation Committee has been very supportive of our efforts in transition planning, recognizing the benefits of training up new leaders while the existing leaders remain in place," said Schoedel. "KDOT's success is supported by our County Board members as we continue on with transition planning for the entire organization."
The award was presented at the APWA Fox Valley Branch's Award Lunch held on February 14, 2023. The American Public Works Association serves professionals in all aspects of public works with a membership of more than 30,000. The Fox Valley Branch is comprised of public and private sector professionals.
Source/KDOT