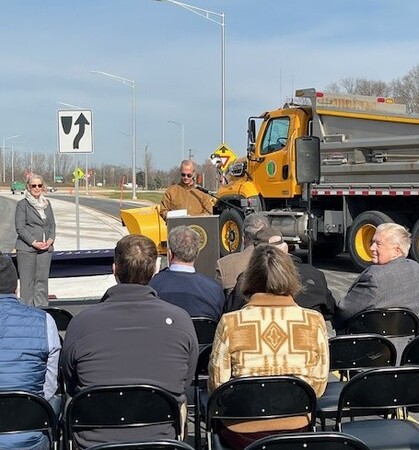 Improved Bliss Road Opens in Kane County with New Roundabout
Kane County Connects Staff 11/17/2023 11:00AM
​
​A two-year construction project to improve the alignment of Bliss Road in Blackberry Township is now complete and open to motorists. Construction on the project, which began in 2022, involved extensive work to realign the road and add a roundabout style intersection to improve safety and relieve traffic congestion.

The $11.9 million capital improvement was funded locally by Kane County and provides an alternate route between Route 47 and Randall Road.
The Kane County Division of Transportation (KDOT) added the Bliss Road Realignment to its long-range planning in 1996 in anticipation of changing traffic patterns.   
In 2022, with the assistance of the Forest Preserve District of Kane County and the Batavia Park District, KDOT broke ground on the realignment of a new pathway for Bliss Road on property just south of the original stretch of Bliss Road.
The improvements included the removal of two signalized intersections at Bliss and Main Street Road and Fabyan Parkway and Main Street Road with a single, oval shaped roundabout.  Roundabouts have been proven safer than a traditional signal-controlled intersection, more effective at reducing congestion, and will have lower long-term maintenance costs.  KDOT has constructed a total of 3 roundabouts along the approximately 320 miles of roadway it maintains.  
Kane County also gained a significant cost savings by avoiding construction to make a section of Main Street Road a four-lane highway to accommodate the flow of traffic.
In addition to the new road configuration and roundabout, KDOT entered into a tree planting contract with the Kane County Forest Preserve to replace trees removed for the project. Four hundred trees with a 2.5" diameter were planted to help with the Forest Preserve's mission of reforesting the property. The trees are now established and growing in the Elburn Forest Preserve.
Kane County extends its appreciation to the local community for their patience during the construction period and urge motorists using the roundabout at Bliss, Main and Fabyan to familiarize themselves with the flow of a roundabout to make the intersection a safe, efficient and more convenient transportation option for all drivers.