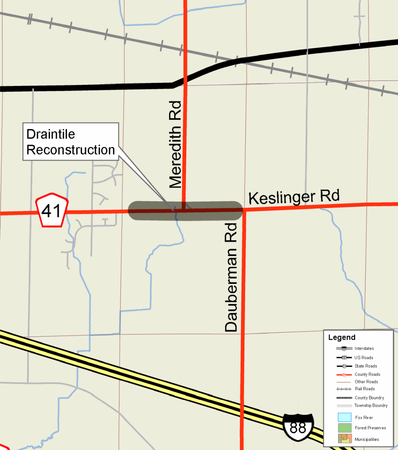 Keslinger Road Draintile Replacement
Kane County Division of Transportation Media Release 7/10/2023 10:00AM
​
Drainage work is scheduled to begin the week of July 10th on Keslinger Road 300 feet west of Meredith Road in unincorporated Kane County. The anticipated duration for the work is approximately 3 weeks, weather permitting. The work shall consist of installing new storm sewer around the existing culvert to bypass the draintile that is damaged. The work will also include trenchless installation of storm sewer underneath Keslinger Road, construction of new manholes and erosion and sediment control aspects. In order to complete this work safety and efficiently, Keslinger Road may at times have temporary daily lane closures with flaggers throughout the duration of the project. Motorists are asked to please follow the posted signage and expect additional time added to their commutes. 
Visit our Traffic Advisories webpage for more information on
road closures, detours, and active KDOT projects.
​Motorists should expect delays while traveling through the work areas, consider alternate routes and expect additional commute time. Motorists are asked to reduce their speed, watch for construction workers and vehicles entering and leaving the site and obey flaggers and traffic control devices. It is illegal to talk or text on a cell phone while driving. 

​