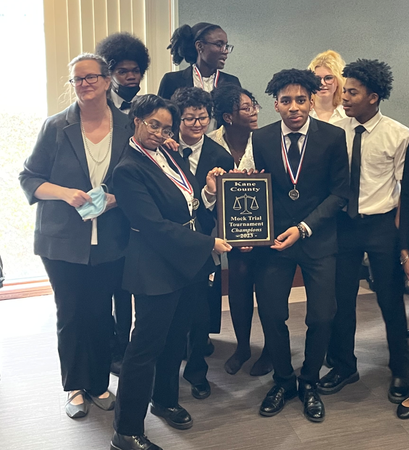 High School Mock Trial Tournament Held in Kane County
Kane County Connects Staff 3/15/2023 9:00AM
On March 4, high schools from in and around the Kane County area converged at the Kane County Judicial Center for the annual High School Mock Trial Tournament. The tournament saw teams from 14 area schools compete and collaborate in 2 mock trials per team, with each trial presided over by a judge from the 16th Judicial Circuit. 
The trials were evaluated by about 30 volunteers from the local legal community, including 12 attorneys representing the Kane County Public Defender's Office and the Kane County State's Attorney's Office. The teams competed for 1st through 3rd place team awards and individual awards for best lawyer and best witness. Chief Judge Clint Hull gave opening remarks for both the participants and the volunteer evaluators as well as presiding over mock trials. 
He was joined in judging the event by Judge Reginald Campbell, Judge Bradley David, Judge William Engerman, Judge Keith Johnson, Judge Michael Noland, Judge Charles Petersen, and Judge Divya Sarang. 
More than 150 participants from the area high schools listed below were hosted at the Kane County Judicial Center to compete in the event, with the team from Southland College Prep securing the overall title.
1. Southland College Prep
2. De La Salle Institute
3. South Elgin

4. Main South
5. Bartlett High
6. York High
7. Stevenson H.S.
8. Normal West
9. Barrington

10. CPSA
11. St. Charles North
12. Homewood-Flossmoor
13. Naperville North

14. Elgin H. S.
Source/Office of the Chief Judge and Court Administrator