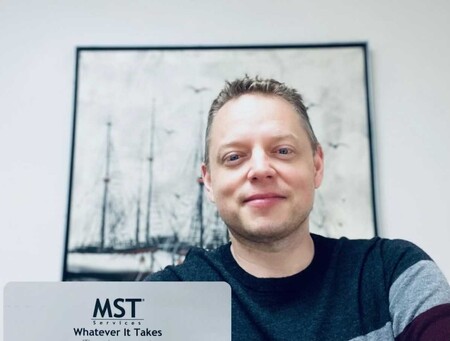 Kane County Probation Officer Recognized for 'Doing Whatever it Takes'
LaTanya Hill, Director Court Services Kane County Judicial Center, 5/30/2023 8:00AM
​Kane County Juvenile Probation Officer, Kevin Murray, has been awarded the MST Services "Whatever It Takes" award by One Hope United for demonstrating outstanding and meritorious services within the MST community. MST is an acronym for Multi-Systemic Therapy, a family and community-based therapy treatment for minors and their families that seeks to promote positive behavioral change. Murray was nominated for this award by Aidee Manna, the MST Supervisor with One Hope United, which is the agency contracted to provide this specialized therapy to court involved juveniles. Participation in the MST program is based on assessed needs and requirements of the juvenile while working with a probation officer. Kane County Court Services pays for the services using probation fees.
Manna shared that Murray was nominated for the award based on his exemplary work with juveniles on probation. She stated his patience and guidance with minors demonstrates that he truly wants them to succeed. She went on to say that he personifies collaboration in the responsive attention he provides to the MST therapists and the families on his caseload. Murray assists the therapists in increasing the motivation of families to begin services through providing support and explaining the short- and long-term benefits of successful completion of the program.
Murray began working in Kane County Court Services in 2012 where he started his career as a Community Restitution Services (CRS) officer. He then moved to a new role as a Juvenile Probation Officer where he has been for most of his tenure. Murray also has the distinction of being a Senior Probation Officer based on his exemplary skills and willingness to train new employees and support new initiatives within the department.
Those who work in the field of probation tend to shy away from personal recognition because the true goal is to promote positive behavioral change in clients, thereby increasing public safety. Murray has been a longtime proponent of evidence-based practices based on his professional experiences in adolescent substance abuse agencies and within probation. His supervisor, Brian Howes, stated that he was not at all surprised that Murray was recognized due to, "…the strength based therapeutic approach he demonstrates on a daily basis with juvenile clients and families." 
Upon learning the news of Murray's award, Director LaTanya Hill, shared her congratulations while noting that he, "Continues to be an asset to Kane County, our juvenile clients, and their families."
Hill continued, "The recognition of Kevin Murray by One Hope United and the MST community is an example of the collaboration that exists within Kane County to improve outcomes for our justice-involved clients. This stakeholder collaboration with minors and their families provides the support, interventions, and resources needed to reduce recidivism, which is ultimately the main goal of probation."  
Source/  LaTanya Hill, Director Court Services Kane County Judicial Center, St. Charles, IL​