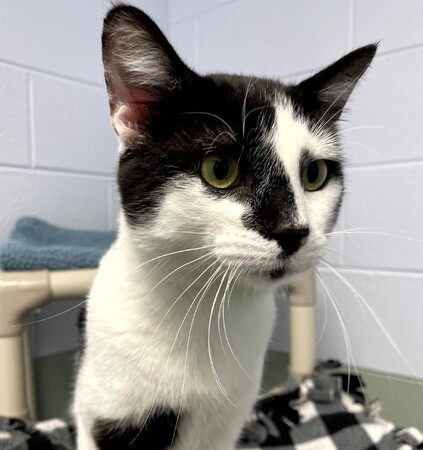 Kane County Animal Control Pet of the Week
KCAC's Adorable, Adoptable Pet of the Week is written by Tecla Metzel of Kane County Animal Control. 7/23/2023 10:00AM
​
His name is tied into a popular on-line game. Most people probably understand the reference if there's a gamer in the family. Some of us are a little more clueless than others, but that's okay.
Come to find out the whole name should be Ser-Pounce-A-Lot, according to a breakdown of the game in Google search.
KCAC kennel staff thought Ser Pounce was long enough for this stray, bubbly little guy who really needs a great home with no other pets, just his owners to calm him and allow him to play with his toys. He loves his toys.
He's only about a year old. So young, too young, really for life to have come at him so harshly. But that's life of a stray. It's not fit for man or beast.
Thankfully he was willing to go with the flow and he has made amazing strides since living at KCAC.
He loves to talk and will tell anyone who will listen about his life.
When he head-butts his visitors, he's relaying how positive his life has become since getting rescued. He'll also talk anyone's ear off as he explains to them how much he wants them to play with him and then he'll ask for a few pets along the way.
Ser Pounce is, indeed, a cat who should be called 'Sir' with as much respect as his new owners can muster for he is definitely a cat for the ages.
How to Adopt
For more information regarding Kane County Animal Control's adoptable animals and for an adoption application, please go to www.kanecountypets.org.
All Kane County Animal Control adoptable cats and dogs are spayed/neutered, microchipped, up-to-date on all vaccines including rabies. They are tested for feline leukemia/FIV and heartworm.
The adoption fee for dogs is $200 and $100 for cats. Adoption of two dogs is $300 and it is $150 to adopt two cats.     
KCAC's Adorable, Adoptable Pet of the Week is written by Tecla Metzel of Kane County Animal Control.​

"If cats could write history, their history would be mostly about cats." – Eugen Weber, Romanian-born American historian