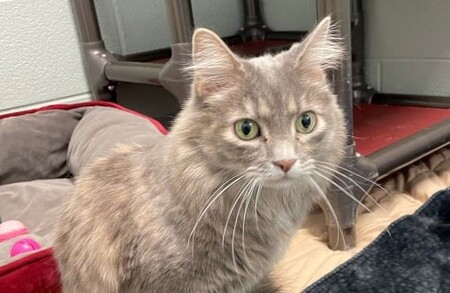 Adoptable Pet of the Week
KCAC's Adorable, Adoptable Pet of the Week by Tecla Metzel of Kane County Animal Control 1/22/2023 10:00AM
It seems as though cats have it made, doesn't it?
They almost live the perfect life! They spend their days sleeping on comfortable, cushy couches or watching birds fly in and out of their yard. Better yet, they get to play with cat toys and hide in closets so they can jump out at their siblings and scare their owners.
If you're addicted to watching all those cat videos on YouTube, then you know that those playful cats either make you laugh or bring a tear to your eye. Isn't it comforting to know that most of these cats in the videos have fur-ever homes?

However, some cats' days of basking in the sun are suddenly interrupted and replaced with long days and nights either living in a shelter or living on the street, all through no fault of their own. Meet Eclipse and her sister Blue Moon, who were brought to KCAC because their owner had passed away and no one in the family was prepared to take them.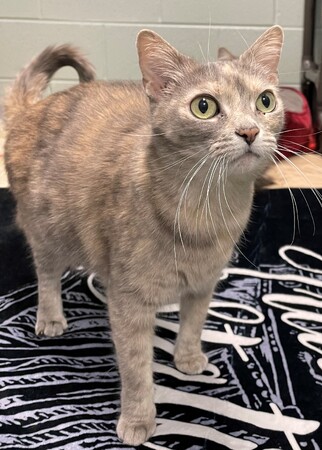 Eclipse and Blue Moon are female torties that love, love, LOVE people. Their ideal day includes getting stomach scratchies, eating, relaxing and, eventually, taking a nice nap together.

These two spayed 9-year-old Domestic Shorthair kitties are a bonded pair and need to get adopted together in a home with no other animals. You won't miss having other pets around because these young ladies have the heart and soul of much younger felines. If cats indeed have 9 lives, then Eclipse and Blue Moon still have many more lives to go.
Let them live the rest of their lives feeling safe and secure with you!
KCAC Update Congratulations to Bashful, the handsome 4-month-old kitten that came to the shelter with his siblings! Bashful was adopted by his forever family and is happily getting acquainted with his new older sibling and all the humans who live in the home. Nothing beats a forever home, Bashful! Have a great life!
How to Adopt For more information regarding Kane County Animal Control's adoptable animals and for an adoption application, please go to www.kanecountypets.org.
All Kane County Animal Control adoptable cats and dogs are spayed/neutered, microchipped, up-to-date on all vaccines including rabies. They are tested for feline leukemia/FIV and heartworm.
The adoption fee for dogs is $200 and $100 for cats. Adoption of two dogs is $300 and it is $150 to adopt two cats.

KCAC's Adorable, Adoptable Pet of the Week is written by Tecla Metzel of Kane County Animal Control.

"There should always be one more cat than person, so everyone has one to pet, and I have two to myself." – Jarod Kintz, Author, self-published