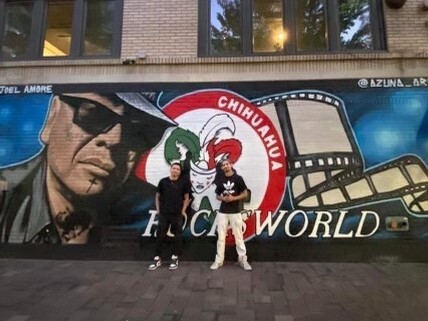 Government Worker's Passion for Art Transforms Wall into Lasting Tribute to a Treasured Community Member
Kane County Connects Staff 8/22/2023 7:00AM
​
Government Worker's Passion for Art Transforms Wall into Lasting Tribute to a Treasured Community Member
Joel Feliciano also known as Joel Amore works for Kane County Government as a painter.  His paintbrush and cheerful attitude have brought a new vibrancy to Kane County's many aging government buildings, both inside and out.  But Joel's true talent recently came to light in a heartfelt tribute he helped paint on a wall outside of a building in downtown Elgin.
Dream Hall, located at 51 South Grove Ave., is where Joel initially met a man named Rocky Lopez. Lopez operated a tortilla company out of the Elgin business incubator at the same time Amore was supervising a semiannual rotation of murals on the outside of Dream Hall, showcasing the work of local artists.  Joel says Lopez was a man "with a good vibe" who made it easy to strike up a conversation.  Never without a smile and a positive word, Amore says Lopez's larger than life presence always brightened people's day.   

He isn't alone in his description of Lopez's infectious personality.  That's how hundreds of people are remembering the 53-year-old Lopez, who died in a motorcycle crash in West Dundee on August 9.  Since then, there has been a steady outpouring of shock and sadness at the loss of the entrepreneur, social media star and local actor, who was considered by many to be Elgin's biggest promoter, a community celebrity and an all-around good guy.     
Following his death, family and friends came together for a motorcycle ride in Lopez's honor and also held a candlelight vigil.  There was also a call for a permanent memorial to Lopez.  In just a few days he and fellow artist Javier Azuna painted a massive mural capturing the enormous spirit of Rocky Lopez on a wall outside of Dream Hall where the two first met.
One of the first to express appreciation for the mural was Lopez's loved ones who called the tribute amazing and said he would have loved it.
You can see the mural outside of Dream Hall at 51 South Grove Ave in Elgin.
To learn more about the work of Joel Feliciano at JoelAmore.com or follow him on Instagram @JoelAmore.