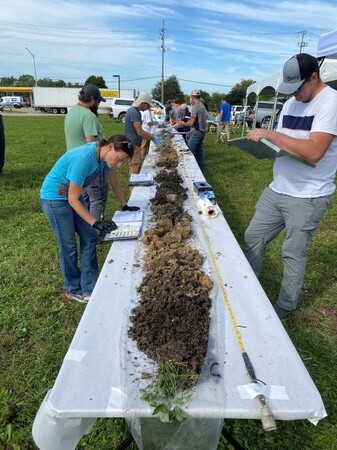 Fragments of a 26,000-year-old Glacier Unearthed in Kane County
Kane County Connects Staff 9/27/2022 7:00AM
A large tent and long tables lined with soil samples along the Kane/Dupage border became an outdoor classroom for dozens of researchers who were looking for remnants of a glacier.
On property behind the gas station at Route 38 and Kirk Road, a hydraulic drill reached down approximately100 feet into the ground while nearby geologists studied and logged samples of the excavated soil, including glacial deposits dating back 26,000 years.

The event was part of a continuing education exercise conducted by Midwest GeoSciences Group.
"We have geologists, hydrogeologists, environmental engineers and other scientists from all over north America who wanted to learn more about glacial deposits and how they impact environmental and engineering work," said Instructor and Group Co-founder Dan Kelleher in an interview with Kane County's Public Information Office.

According to data from the Illinois Geological Survey (IGS) the glacial periods that impacted Illinois are known as the pre-Illinoian, Illinoian and Wisconsinian. IGS also reports, at the height of the last Ice Age (about 20,000 years ago) glaciers extended over what is now present-day Aurora, Bloomington, Champaign, Chicago, Danville, Decatur and Peoria, covering Illinois with ice.

Kelleher says the dig on the east side of Geneva is historic because it's an area that has never been mapped regionally for sequences that includes glacial ice, water and lake sediments. He says it will become a public data point for the Illinois State Geological Survey, Northern Illinois University and other research organizations to understand how groundwater changes impacts soil movement