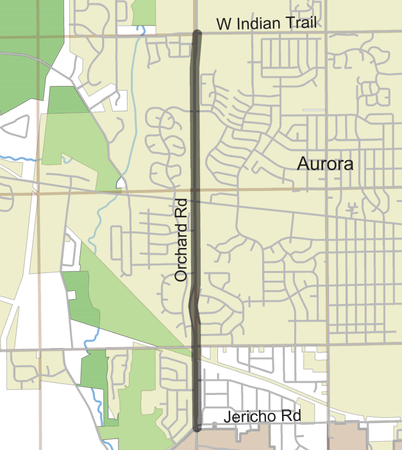 Orchard Road PCC Roadway Maintenance and Sign Repair
Kane County Division of Transportation Media Release 9/5/2023 10:00AM
​
Concrete repair work is scheduled to begin the week of September 4th on Orchard Road between Indian Trail Road and Jericho Road. Single lane closures on northbound and southbound Orchard Road will occur between these intersections in order to safely and efficiently patch portions of the concrete road in need of repair. Daily lane closures will occur Monday through Thursday from 9:00 am to 3:00 pm.
Permanent single lane closures will occur starting at 9:00 am on Friday and ending at 6:00 am on Monday on the following weekends: September 8-11, September 15-18, September 22-25, weather permitting. This improvement will include concrete pavement patching, curb and gutter remove and replacement, crack filling, pavement striping and sign work.
Visit KDOT's Traffic Advisories webpage for more information on
road closures, detours, and active KDOT projects.
Motorists should expect delays while traveling through the work areas, consider alternate routes and expect additional commute time. Motorists are asked to reduce their speed, watch for construction workers and vehicles entering and leaving the site and obey flaggers and traffic control devices. It is illegal to talk or text on a cell phone while driving.
Kane County Division of Transportation

41W011 Burlington Road, St. Charles, IL 60175 | (630) 584-1170
kdotcomments@KaneCountyIL.gov| kdot.countyofkane.org

Source /  Kane County Division of Transportation