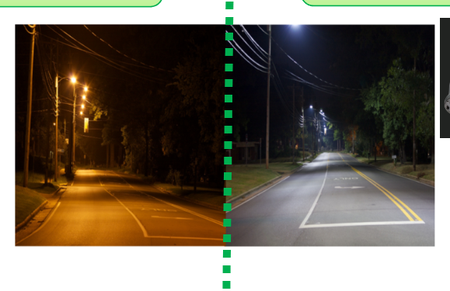 Sustainable Light Technology Coming to Kane County Roads
Kane County Connects Staff 4/10/2023 12:00PM
 The Kane County Division of Transportation has started a 3-year project to replace 1,140 street lighting fixtures maintained by Kane County with Light-Emitting Diode (LED) technology at an approximate cost of $735,000.

Currently, the County uses High Pressure Sodium (HPS) light bulbs. The system wide replacement to LED bulbs is expected to improve energy efficiency by reducing energy consumption (wattage) by an average of 46%. LEDs are more durable and last significantly longer (approximately 20 year compared to 5-6 years) which will require less maintenance.
In addition to the cost savings, KDOT says LEDs chosen for the project are photometrically designed to offers a higher quality of light with more directional light distribution and less light trespass on adjacent properties. This follows the best practices of what's known as Dark Sky Compliance. The LED color is a warmer shade of white to reduce blue light emissions while the structures that house the fixtures have a minimal rating for backlighting, uplighting and glare to reduce the impacts on the environment or motorists using the road.
"The retrofit project saves both energy and money and is in keeping with the County's sustainability efforts," said Stephen Zulkowski Kane County's Chief of Traffic Operations.
KDOT plans to replace approximately 400 fixtures per year over the three years the replacement project. The HPS fixtures will be salvaged and stored as they are replaced and will be used as spares until the project to switch them to LED is complete, sometime in 2025.
Learn more about the work the Kane County Division of Transportation is doing by
clicking here