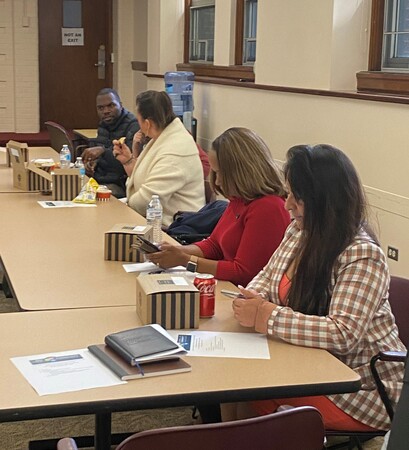 Kane County Connects Business, Jobs and Community through Roundtable
Kane County Connects Staff 10/18/2022 8:00AM
Kane County works with municipal and economic development partners to attract and retain businesses, and maintain a workforce ready to meet the needs of the future.

Twice a year the County facilitates a gathering of key regional representatives looking for new ways to grow the local economy. Invitees include municipalities, chambers of commerce, educators, and non-profits, each who share information on success stories, new initiatives and issues of concern.
"Many of our municipalities and other partners have singular staff and the roundtable provides an opportunity to connect and learn from individuals who are similarly invested in economic development," said Christopher Toth, Planner with the Kane County Development and Community Services Department.
Issues identified during the roundtable included the growing need for workforce housing. This includes the "missing middle" of housing opportunities for workers earning between $40,000 - $75,000 per year. Recent successes mentioned included one of the largest new manufacturing facilities in Illinois bringing 500 jobs to the Elgin area, Batavia's successful "Boardwalk Shops", an incubator for small business startups, and a busy fall cross country meet season at the Northwestern Medicine Cross County Course, culminating with the NCAA Division III Men's and Women's Midwest Regional Cross-Country Meet on November 12, 2022.
The roundtable also provided Kane County Board members and staff an opportunity to highlight the numerous resources the County's has to offer to assist in economic recovery and expansion, in addition to grant opportunities to fund the development of economic strategies or assist in implementing those ideas.
The gathering hosted on October 14, 2022 at the Kane County Government Center drew nearly two dozen individuals. To learn more about Kane County's Development and Community Service Department
CLICK HERE
.