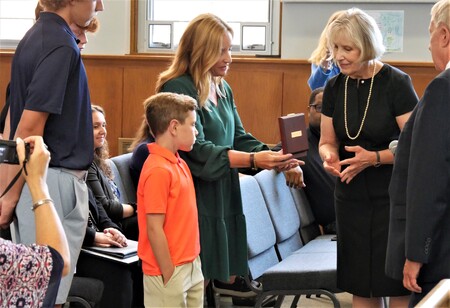 Posthumous Award for Heroism
Kane County Connects Staff 7/12/2022 12:00PM
Presentation of Carnegie Hero Medal to Family of Batavia Man Who Lost his Life to Save a Child from Drowning
On March 28, 2021, Daily Herald newspaper executive Peter Rosengren of Batavia drowned while helping to rescue a 9-y
ear-old boy who was struggling agai
nst a
dangerous rip current in the Gulf of Mexico.
A year after his death, Mr. Rosengren was named by the Carnegie Hero Fund Commission to receive the Hero Medal.

According to the Commission, the medal is North Ameri
ca's highest honor f
or ci
vi
lian heroism.
Mr. Rosengren's wife Maura, the couple's three sons, Rosengren's extended family, the Mayor of Batavia Jeff Schielke and President and COO of the Daily Herald Media Group Scott Stone were on hand as Kane County Board Chair Corinne Pierog presented the Carnegie Hero Medal during the County Board meeting on July 12, 2022.