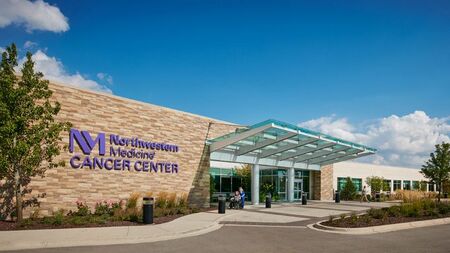 Northwestern Medicine Delnor Hospital Begins Cancer Center Expansion and Renovation
Kane County Connects Staff 6/2/2022 10:00AM
Northwestern Medicine Delnor Hospital is expanding its Cancer Center located on the hospital campus at 304 Randall Road in Geneva. 
The expansion increases the size of the facility by an additional 15,500 square feet, and approximately 6,000 square feet will be renovated.
"Cancer treatment is more effective now than it has ever been, but our new treatments require more space and resources. So, we need to expand our oncology services here in the Fox Valley," said Christopher M. George, MD, medical director, Northwestern Medicine Delnor Cancer Center. "Our expanded cancer center will continue to provide state-of-the-art therapies as well as diagnostic services. But a larger cancer center will allow us to expand the number of specialized clinics and new cancer therapies here, without asking patients to travel downtown." 
The project includes 17 new private infusion bays and a consultation room, which increases the total number of infusion bays to 30. In the oncology clinic, an additional 19 exams rooms and a new procedure room will increase the number of exam rooms to 32 and two procedure rooms. Nurse stations will be enlarged, and staff will have additional space with a larger staff lounge that accesses an outdoor patio. The pharmacy will double in size with additional workstations and a changing room. Two new chemo hoods will be added, and a medication room will be expanded to accommodate additional Pyxis machines. The mechanical room will be enlarged, and a new receiving room will be constructed. 
"The existing Cancer Center has not been renovated or modernized since it was built in 2012," said Dan Callaghan, director of planning and construction, Northwestern Memorial HealthCare. "With renovation of existing space and additional design features, the transition into the newly expanded space will be seamless."
The new construction will extend south into the retention pond located near the intersection of Randall Road and Keslinger Road. The retention pond will be expanded to the west to accommodate displaced volume and native vegetation will be planted. During construction, there will be minimal or no disruption to patients. The project is expected to be completed in Spring of 2024.

SOURCE:  Northwestern Medicine press release.