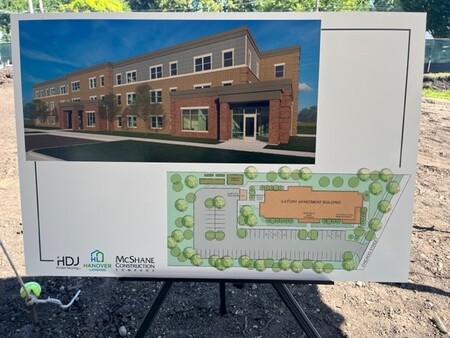 Supportive Housing Development Underway in Elgin
Kane County Connects Staff 9/4/2022 7:00AM
​
The City of Elgin held a groundbreaking celebration marking the start of construction on a 40 unit permanent supportive housing development. 
According to the Illinois Housing Development Authority, Hanover Landing, located at 711 E. Chicago Street, will be a 100% supportive housing development that will serve residents living with disabilities and those exiting homelessness, all of whom will live independently. 
The $16.5 million project will utilize the Housing First model, with on-site services offered to tenants tailored to meet the needs of the individual. Hanover Township, as the development's Service Coordinator, will work with local agencies and organizations including the Ecker Center to deliver both on-site and off-site community-based services to help tenants maintain their leases and improve quality of life. Resident services may include case management, life skill training, and employment assistance.
Construction is expected to be complete next year.​