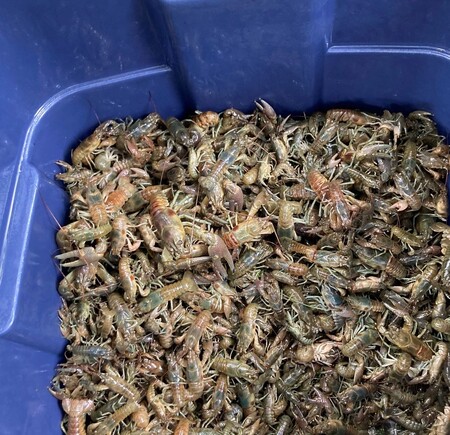 There Are Underwater Invaders in Kane County Local Streams and Rivers
Kane County Connects Staff 7/11/2022 8:00AM
There are underwater invaders in our local streams and rivers and we want you to help us find them on Saturday, Aug. 6, from 11:00 a.m. - 1:00 p.m.
The culprit is the Rusty Crayfish — a tiny aquatic creature that's an invasive species in Kane County. Help naturalists round up some rowdy Rusty Crayfish in an attempt to reduce their numbers.
Families are encouraged to join us in the water with dip nets to collect, identify and remove some Rusties. You might even find the biggest of these varmints or collect the greatest number of them. Prepare to get wet! Wear closed-toe shoes and clothes that can get muddy.
The event will be held at two locations. Join us at either Glenwood Park Forest Preserve (1644 South River Street, Batavia) or at Primrose Farm (5N726 Crane Rd., St. Charles.)
All Rusty Crayfish collected at the Rusty Rodeo will be used as food for various captive animals maintained at sponsoring agencies' nature centers.

This program is in partnership with the Forest Preserve District of Kane County, the St. Charles Park District, the Fox Valley Park District, Friends of the Fox River, and the Center for Great Lake Literacy — Illinois-Indiana Sea Grant.
No registration is required for this free, family-friendly program. Call 630-444-3190 or email programs@kaneforest.com for more information.
Source: Forest Preserve of Kane County