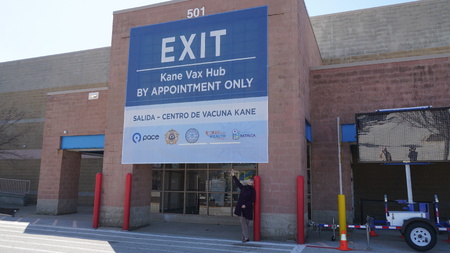 Kane County Closes Vax Hub
Kane County Connects Staff 10/4/2022 6:00AM
​
The Kane Mass Vax Hub in Batavia opened its doors on March 19, 2021.  Located in the former Sam's Club Warehouse at 501 N. Randall, the site was among four regional locations that offered free COVID-19 vaccines to all eligible Illinoisans regardless of zip code.  
Since its opening, 114,433 doses of vaccine have been administered at the Kane Vax Hub. According to internal data compiled by the Kane County Health Department, the total number of shots is the most given in the state outside of Cook County.  
"The Vax Hub was an immediate response to the concerns of the public to slow the spread of COVID-19," said Kane County Board Chair Corinne Pierog.   "Opening the facility and maintaining its operation was an extraordinary effort by volunteers and staff whose steadfast contributions kept our citizens and workforce healthy and safe."
The Vax Hub also vaccinated individuals from every continent except Antarctica, and became the recognized model statewide for similar vaccination sites based on its unique system of efficiently and quickly moving people through the vaccination process.  

"More than 55 organizations and agencies stepped forward to make the Vax Hub a place that was easy to access and navigate," said Kane County Health Department Executive Director Michael Isaacson.  "KCHD will continue to administer COVID-19 vaccines but in smaller venues going forward."
Among the many contributions to the Vax Hub was notably from the City of Batavia.  Besides providing police and fire safety protection, Batavia funded, through local and federal funds, all of the utilities at the facility at no cost to the County. 

The Kane County Health Department will offer vaccinations by appointment at the Aurora office, located at 1240 N. Highland Ave and will be scheduling pop-up vaccine clinics throughout the County. Check KaneVax.org for availability.​