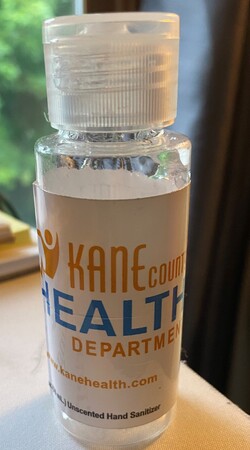 Request a PPE Distribution Event
Kane County Connects Staff 7/16/2022 7:00AM
Over the course of the COVID-19 Pandemic, the Kane County Health Department (KCHD) has distributed Personal Protective Equipment (PPE) to over 250 organizations on an ongoing basis, sharing a total of 8,016,550 items. Items distributed include the following: N-95s, fluid resistant face masks, hand sanitizer, gowns, face shields, goggles, gloves, disinfectant cleaning supplies and digital thermometers.
On June 29, the Kane County Health Department, in partnership with the Kane County Sheriff's Office of Emergency Management, held another drive-thru PPE distribution event as part of the ongoing efforts to provide healthcare and community organizations with the necessary tools to keep themselves, as well as those they serve, safe and healthy.
This most recent mass distribution provided over 1.5 million items of PPE to more than 60 facilities and agencies including school districts, fire and police departments, skilled nursing facilities, dental offices, homeless shelters, food pantries and more.
If your organization needs PPE for staff or those you serve that you were not able to obtain through previous PPE distributions, please contact Kane County Health Department Emergency Response Coordinator Cadence Griffiths at GriffithsCadence@co.kane.il.us to request a distribution. Source: Kane County Health Department