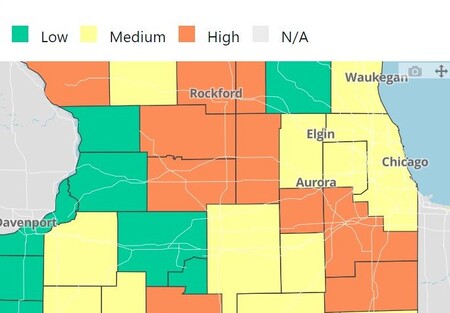 Kane County Lowered to Medium Community Level for COVID-19
Kane County Connects Staff 6/17/2022 1:00PM
The Centers for Disease Control and Prevention has downgraded Kane County to a medium community rating for COVID-19. Lake and DuPage counties were also rated medium, while McHenry County is listed at a low community level for COVID-19. Will County remains high, as does Kendall and DeKalb counties.

The CDC recommends the following measures for people in areas that are rated at Medium Community Level for COVID-19 transmission:
• If you are at high risk for severe illness, talk to your healthcare provider about whether you need to wear a mask and take other precautions

• Stay up to date with COVID-19 vaccines

• Get tested if you have symptoms

Vaccination appointments are available at the Kane Vax Hub. Visit
KaneVax.org​
. For more information about COVID-19, visit the KCHD website at KaneHealth.com​.
For more information about COVID-19 transmission rates
click here.