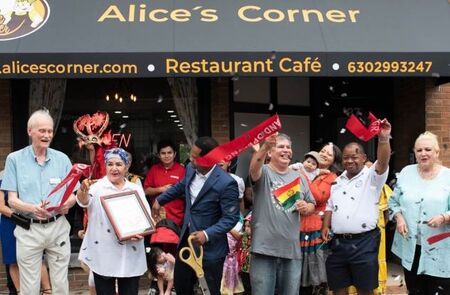 Aurora Opens Three New Downtown Restaurants in One Day
Kane County Connects Staff 8/9/2022 8:00AM
The City of Aurora welcomes three new eateries to downtown Aurora.  Back-to-back ribbon cutting were held this past weekend to celebrate the opening of Alice's Corner, Kathryn's Place, and Craft Urban Aurora.
The city's first Bolivian restaurant and the only authentic full-service Bolivian restaurant in the state, Alice's Corner, is owned by Alice and Oscar Butron, who have operated a food truck at local farmer's markets for the past decade. 
Fitness expert Quinton Thompson already owns QT3 Fitness Center in downtown Aurora and opened his newest complementary venture right next door. Kathryn's Place is a juice bar serving fresh juices, acai bowls, and protein shakes. It is named in honor of Thompson's mother, who recently lost her battle with breast cancer.
Restaurateur Bernie Laskowski opened Craft Urban Aurora over the weekend, expanding his popular brand from Geneva. The two-story restaurant rehabbed a long-vacant building downtown, complete with an outside dining patio and a menu of American Fare.
In a media release, city officials said hundreds gathered in downtown Aurora for the series of ribbon cuttings, and patrons poured into the eateries well into the night to support the local entrepreneurs.
Source: CIty of Aurora