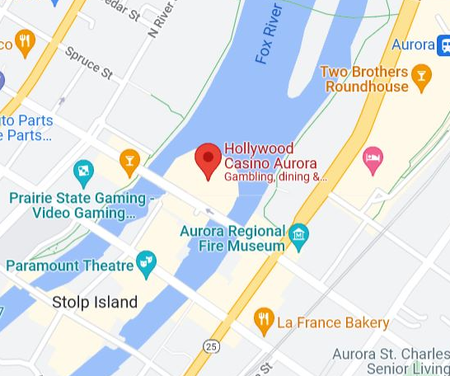 Aurora Casino Seeks to Relocate/ Presentation Scheduled for Oct. 13
Kane County Connects Staff 10/11/2022 8:00AM
PENN Entertainment
has announced that it intends to relocate its riverboat casinos in Aurora and Joliet, Illinois to new land-based facilities.
"Our plan for Aurora is to construct a modern, best-in-class casino and hotel in an ideal location off I-88 that will allow us to serve the millions of visitors to the adjacent Simon Premium Outlet Mall," said Mr. Snowden, Chief Executive Officer and President of PENN Entertainment.
The $360 million development, which will be located on Farnsworth Ave on Aurora's east side - across from the outlet mall on the land of the former Motel 6 and Fox Valley Inn - is expected to include:
a modern, best-in-class casino with approximately 900 slots, 50 live table games, and a Barstool Sportsbool. 
a best-in-class hotel with approximately 200 hotel rooms. 
10,000 square foot event center with a full-service spa, high-quality bars and restaurants.
The development will include the transfer of certain parcels of land from the city, and up to $50 million of the project will be funded by the city through a new bond issuance, all of which is subject to final approval by the Aurora City Council.
Construction of the new property is expected to begin in late 2023, subject to city and regulatory approval.
The initial presentation to the Finance Committee will be held at 3 p.m. on Thursday, October 13 at Aurora City Hall, 44 E. Downer Place. This will begin the City Council committee process, which will include presentations on the proposed development and potential plans for the property in downtown Aurora if the plan is approved.
Source: Penn Entertainment Media Release/ City of Aurora Facebook page