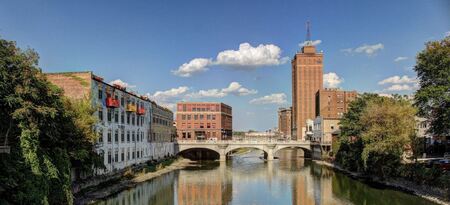 Aurora Sends 'Letter of Interest' to Chicago Bears in Relocation Bid
City of Aurora Media Release 6/28/2023 3:00PM
​
Chicago Bears general manager Kevin Warren said this week the Chicago Bears are now "in a position to start exploring other places and opportunities and no longer considers Arlington Heights as a singular focus."
This is ideal timing because the City of Aurora submitted to Warren a letter of interest to consider the state's second-largest city as a viable relocation option and a personal invitation from Aurora Mayor Richard Irvin to visit the City of Lights. 
Throwing its proverbial 'hat in the ring' in the two-page letter, Aurora touts its amenities and proven ability to turn a vision into reality.
The letter reads, in part, . . .
"Aurora, the City of Lights, the second largest city in Illinois, is built on the unshakable foundation of its storied past.  The opportunity to partner with the historic Chicago Bears as you search for the perfect new home is one we are eager to take on . . .
. . . turning a vision into reality is not always easy.  It requires the right resources to make dreams come true.  Aurora offers unparalleled key resources to take a vision and make dreams come true.  Our professional team of government and development professionals has a proven track record of getting big things done.
Recent high-profile examples include:
Our nationally-recognized $360M development with PENN Entertainment relocates Hollywood Casino Aurora to a new site that will allow it to thrive and grow.
Our redeveloped Fox Valley Mall that is being reimagined into a new mixed-use center.
The newest Del Webb Retirement Community in our far southern section of the City.
A variety of new downtown reinvestments that will add 500 new residential units and 10,000 SF of new retail space to our exceptional riverfront location.
​Sitting in the cradle of the Fox Valley, Aurora is easily accessed by plane, car, and train.  Located just miles from O'Hare and Midway Airports and our recently expanded Aurora Municipal Airport, Aurora easily satisfies any organizational supply chain requirements and visitor air transport needs.  Easy access to all parts of our great city from four major interchanges off Interstate 88 makes getting to Aurora by car a breeze.  Our two major stops along the BSNF Metra train line, the busiest line in the greater Chicagoland area, provide convenient rail access.
. . . Welcoming a historic organization such as the Chicago Bears would enhance our bold vision for Aurora and will provide the Chicago Bears with a new home to begin the next phase of your storied history.  We invite you to visit our great city to explore the exciting opportunity Aurora can bring to the world-famous Chicago Bears."
 Source/ Aurora Media Release