The Kane County Health Department recognized its active volunteers of the Kane County Medical Reserve Corps at a special event in East Dundee on Saturday evening, July 24.
"Our volunteers have always demonstrated a high level of commitment since the inception of the KCMRC," said Claudia Reginato, former coordinator of the KCMRC. "When the COVID-19 pandemic hit our nation and our county, they immediately jumped in to help, supporting the Health Department in many different ways, working hard to help us address the immediate public health needs of our community."
In just the past three years, the corps grew from 20 volunteers to the current 225.
In the past 12 months, the volunteers have donated nearly 6,500 hours to support various activities, completing required trainings in order to perform their roles with expertise.
From August 2020 to June 2021, 129 KCMRC volunteers donated 5,136 hours supporting mass vaccinations, including outbreak support, call center support, contact tracing and help at COVID rapid-testing clinics.
Volunteers have also helped with other activities not directly related to COVID response, including working 144 hours to support flu clinics and provide program support.
"The level and scope of participation of our volunteers reveals a lot about the Kane community," Reginato said. "It emphasizes the long-known concept that it is not possible to effectively advance goals in public health unless we foster the engagement of the community. By acknowledging the immeasurable value of our volunteers' work and support, we recognize that we could not possibly have accomplished what we did in the past year without their help."
For additional information about the Medical Reserve Corps, visit https://www.kanehealth.com/Pages/Medical-Reserve-Corps.aspx
How To Volunteer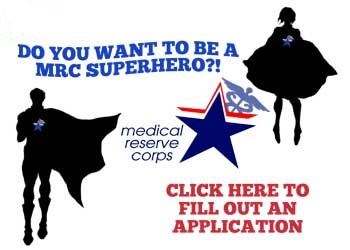 Email the fillable form application to: hrmcorrespondence@co.kane.il.us
Or print, complete, and mail to the address on the application.​​
SOURCE: Kane County Health Department news release
Read More