The National Weather Service Chicago has confirmed three tornadoes in the Northern Illinois area during the Memorial Day storm.
There was also widespread large hail and wind damage across northern Illinois and northwest Indiana.
The three brief confirmed tornadoes were all EF-0, the lowest and least dangerous on the scale.
In addition to the severe weather, heavy rainfall and flooding were reported in many locations. With the 1.92 inches of rain recorded at Chicago O'Hare, this set a daily record for precipitation for May 27, as well as making it the wettest Memorial Day on record.
See the graphics below for more information about the tornadoes' location and intensity.
FEATURE PHOTO CAPTION: All images are courtesy of the National Weather Service website. The feature photo is credited to Sandra Mallery-Davis.
24-Hour Rainfall Totals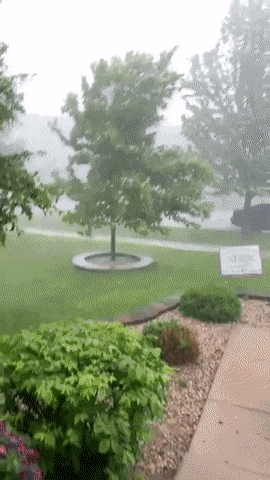 Kane County was hit by about an inch of rain on Tuesday (May 28, 2019), according to the National Weather Service.
The top rainfall collector in Kane County as recorded between 6 a.m. and 8 a.m. Wednesday, May 29, was Aurora at 1.15 inches.
Illinois                                       Rain
  Location (County):                           fall (inches)

  Ottawa (La Salle)............................2.01
  Sheridan 3SSE (La Salle).....................2.00
  Ottawa (La Salle)............................1.91
  Oglesby 1ESE (La Salle)......................1.87
  La Salle (La Salle)..........................1.86
  Crete 3E (Will)..............................1.81
  Marseilles Lock & Dam (La Salle).............1.65
  Ottawa 1NW (La Salle)........................1.63
  Peru 1ENE (La Salle).........................1.63
  Streator 1WSW (La Salle).....................1.61
  Ottawa 2N (La Salle).........................1.55
  Peotone (Will)...............................1.54
  Minooka (Grundy).............................1.48
  Channahon 2SSE (Will)........................1.45
  Wilmington 6NW (Will)........................1.42
  Monee (Will).................................1.39
  Morris (Grundy)..............................1.37
  Morris 2SSE (Grundy).........................1.35
  Mendota (La Salle)...........................1.34
  Mendota (La Salle)...........................1.32
  Coal City 4NNW (Grundy)......................1.31
  Carbon Hill 3.1N (Grundy)....................1.31
  Flossmoor 1ESE (Cook)........................1.28
  Elwood 5NE (Will)............................1.28
  Morris 5NNW (Grundy).........................1.27
  Coal City 3N (Grundy)........................1.27
  Dwight 4NNW (Grundy).........................1.23
  Mazon 0.5ENE (Grundy)........................1.23
  Channahon 1NNE (Will)........................1.23
  Wilmington 3SE (Will)........................1.23
  New Lenox 2SE (Will).........................1.21
  Somonauk (De Kalb)...........................1.20
  Earlville 5NNE (De Kalb).....................1.20
  Park Forest 1SW (Cook).......................1.18
  Manhattan 1ESE (Will)........................1.18
  Dwight (Livingston)..........................1.17
  Oak Lawn (Cook)..............................1.17
  Shabbona (De Kalb)...........................1.17
  Oak Lawn 2SE (Cook)..........................1.16
  Manhattan 5ENE (Will)........................1.16
  Mokena 1W (Will).............................1.16
  Manhattan 2SE (Will).........................1.16
  Joliet 2n (Will).............................1.16
  Amboy (Lee)..................................1.15
  Aurora (Kane)................................1.15
  Coal City (Grundy)...........................1.15
  Somonauk 2NE (De Kalb).......................1.14
  Romeoville (Will)............................1.14
  Park Forest (Cook)...........................1.14
  Plano (Kendall)..............................1.13
  Manteno 2NW (Kankakee).......................1.13
  Dixon 3NNW (Lee).............................1.13
  Plainfield 2SSE (Will).......................1.12
  Manhattan (Will).............................1.12
  Morris (Grundy)..............................1.10
  Earlville 3S (La Salle)......................1.10
  Manteno 2SSE (Kankakee)......................1.10
  New Lenox 3E (Will)..........................1.09
  Lansing (Cook)...............................1.09
  Plainfield (Will)............................1.09
  Dixon (Lee)..................................1.08
  Flossmoor (Cook).............................1.08
  Joliet 3WNW (Will)...........................1.06
  Peru (La Salle)..............................1.06
  Downers Grove 0.4NNE (Du Page)...............1.05
  Naperville 1NW (Du Page).....................1.05
  Plainfield 3NNW (Will).......................1.05
  Homewood (Cook)..............................1.04
  New Lenox 3ENE (Will)........................1.04
  Lansing (Cook)...............................1.03
  Joliet (Will)................................1.03
  Chicago 6ESE (Cook)..........................1.02
  Palos Park 1SW (Cook)........................1.02
  Plainfield 5SW (Kendall).....................1.02
  Aurora (Kane)................................1.01
  Willow Springs (Cook)........................1.01
  Chicago Ridge (Cook).........................1.00
  Burr Ridge 2SW (Du Page).....................1.00
  Oswego 5SSE (Kendall)........................1.00
  Geneva 4WSW (Kane)...........................1.00