We might be getting more rain late this afternoon (Thursday, Aug. 9, 2018), and that could add to the fairly substantial totals some Kane County communities got hit with Tuesday.
According to the National Weather Service Chicago, a cold front is expected to sag south to near the Illinois-Wisconsin state line by late this afternoon, producing scattered thunderstorms across far northern Illinois.
Some of these storms could produce strong winds and heavy rainfall. Precipitation chances will diminish with sunset and the front may pass through most of the area dry overnight.
Scattered thunderstorms will redevelop along the front Friday afternoon well south of I-80.
On Tuesday, Batavia led all of Kane County, with 1.63 inches of rain in a very short period of time. Geneva got 1.52 inches, Elgin 1.33, Elburn 1.20 and Lilly Lake 1.08.
Harwood Heights in Cook County recorded the most rain Tuesday, with 3.04 inches.
The full NWS Chicago list is below, with Kane County totals highlighted in red boldface.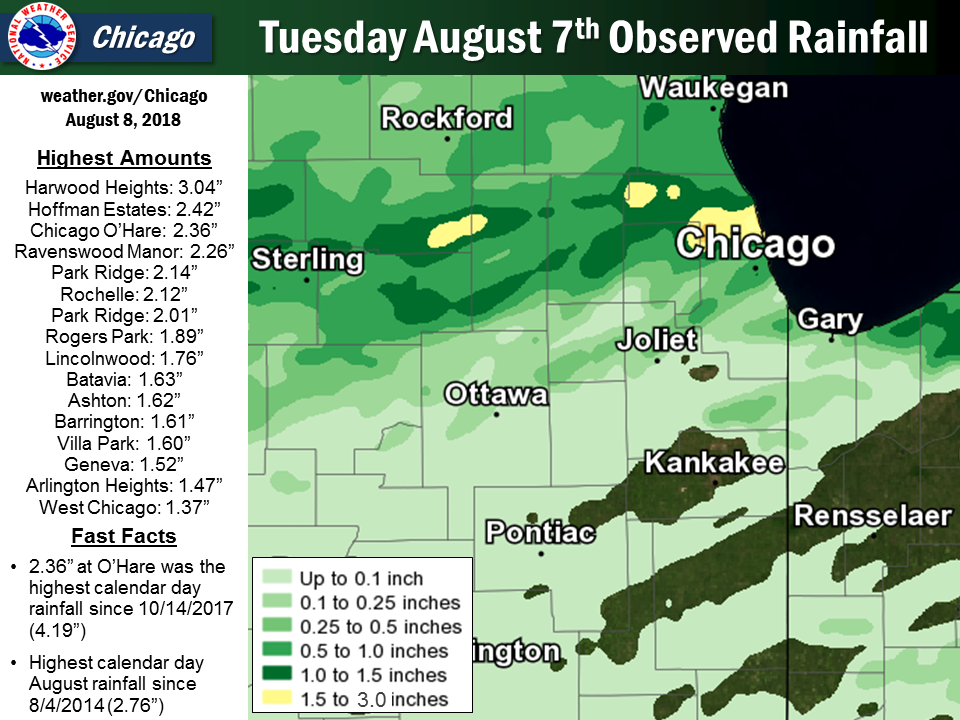 Public Information Statement
National Weather Service Chicago IL
1042 AM CDT Wed Aug 08 2018

...Morning Rainfall Roundup...

   The following are rain amounts for the previous 24-hours
   as measured in the morning by NWS Cooperative Observers
   and CoCoRaHS observers.
   Observations are usually taken between 6 AND 8 AM.

   24-hour rainfall amounts
       for Wednesday(08/08/18)...


Illinois                                       Rain
  Location (County):                           fall (inches)

  Harwood Heights (Cook).......................3.04
  Hoffman Estates 5W (Cook)....................2.42
  Ohare (Cook).................................2.36
  Ravenswood Manor (Cook)......................2.26
  Park Ridge (Cook)............................2.14
  Rochelle (Ogle)..............................2.12
  Park Ridge 1WNW (Cook).......................2.01
  Rogers Park 2SW (Cook).......................1.89
  Rochelle (Ogle)..............................1.88
  Lincolnwood 2E (Cook)........................1.76
  Batavia (Kane)...............................1.63
  Ashton (Lee).................................1.62
  Barrington (Lake)............................1.61
  Villa Park 1NW (Du Page).....................1.60
  Geneva 1SSW (Kane)...........................1.52
  Arlington Heights 1SW (Cook).................1.47
  Batavia 2WNW (Kane)..........................1.46
  Batavia 1WNW (Kane)..........................1.39
  Arlington Heights 1SW (Cook).................1.38
  West Chicago (Du Page).......................1.37
  Elgin (Kane).................................1.33
  Elmwood Park 1ESE (Cook).....................1.32
  Dixon 3NNW (Lee).............................1.32
  Elgin (Kane).................................1.24
  Elgin 1S (Kane)..............................1.24
  Geneva 4WSW (Kane)...........................1.21
  Elburn (Kane)................................1.20
  Elk Grove Village 2WSW (Cook)................1.20
  Elburn (Kane)................................1.20
  Schaumburg 2E (Cook).........................1.16
  Elburn (Kane)................................1.16
  Chicago 6NNE (Cook)..........................1.13
  Elmhurst (Du Page)...........................1.12
  Lily Lake 2E (Kane)..........................1.08
  Arlington Heights 3SSW (Cook)................1.07
  Palatine 1NNE (Cook).........................1.06
  Elmhurst 1ESE (Du Page)......................1.04
  Carol Stream (Du Page).......................1.00
  Elgin 2W (Kane)..............................0.98
  Sugar Grove 1ENE (Kane)......................0.95
  Palos Park 4WNW (Cook).......................0.88
  Sugar Grove 1NE (Kane).......................0.85
  Steward (Lee)................................0.85
  Fox Lake 2SE (Lake)..........................0.84
  Gilberts (Kane)..............................0.83
  De Kalb (De Kalb)............................0.82
  Genoa (De Kalb)..............................0.80
  Bannockburn (Lake)...........................0.79
  Paw Paw (Lee)................................0.79
  North Aurora 2NE (Kane)......................0.77
  Willow Springs (Cook)........................0.75
  Chicago 6ESE (Cook)..........................0.74
  De Kalb (De Kalb)............................0.72
  Lake Zurich (Lake)...........................0.72
  Wheaton 2NNE (Du Page).......................0.71
  St. Charles 6NW (Kane).......................0.71
  Glencoe (Cook)...............................0.70
  Wonder Lake 1WNW (McHenry)...................0.69
  Wheeling (Cook)..............................0.69
  Oak Park 1NNE (Cook).........................0.67
  Botanic Gardens (Cook).......................0.65
  Peotone (Will)...............................0.65
  Winnetka 1ESE (Cook).........................0.64
  Lakemoor 2SE (Lake)..........................0.64
  Glen Ellyn 1NNW (Du Page)....................0.63
  Midway (Cook)................................0.63
  Libertyville 2ESE (Lake).....................0.62
  Romeoville (Will)............................0.62
  Chicago 5NE (Cook)...........................0.61
  Riverwoods (Lake)............................0.61
  Joliet 3WNW (Will)...........................0.60
  Amboy (Lee)..................................0.58
  Lake Zurich 1N (Lake)........................0.57
  Buffalo Grove 2N (Lake)......................0.55
  Winthrop Harbor 1SSW (Lake)..................0.54
  Woodstock 5nw (McHenry)......................0.53
  Capron (Boone)...............................0.51
  De Kalb 1SW (De Kalb)........................0.51
  Lake Bluff 1W (Lake).........................0.51
  Highwood 1S (Lake)...........................0.51
  Mundelein 2WNW (Lake)........................0.51
  Dixon (Lee)..................................0.50
  Bridgeview 1NNW (Cook).......................0.50
  Algonquin 1N (McHenry).......................0.49
  Cary (McHenry)...............................0.46
  Lombard 1NNW (Du Page).......................0.44
  Dekalb (De Kalb).............................0.43
  Oak Park 2S (Cook)...........................0.43
  Naperville 2ESE (Du Page)....................0.41
  Mundelein (Lake).............................0.41
  Huntley (McHenry)............................0.38
  Glen Ellyn 1WSW (Du Page)....................0.37
  Lake in the Hills 2.5W (McHenry).............0.37
  Mundelein (Lake).............................0.37
  Oak Park 1SW (Cook)..........................0.34
  McHenry (McHenry)............................0.34
  Rockford 3NE (Winnebago).....................0.33
  Aurora (Kane)................................0.32
  Lisle Morton Arb (Du Page)...................0.31
  

Aurora 4NE (Du Page).........................0.30


  Lake Villa 2WSW (Lake).......................0.30
  Midway Coop (Cook)...........................0.30
  Waukegan (Lake)..............................0.30
  Bull Valley 2WNW (McHenry)...................0.29
  Romeoville (Will)............................0.28
  Countryside 1ENE (Cook)......................0.27
  Woodstock 4SW (McHenry)......................0.27
  Aurora (Kane)................................0.25
SOURCE: National Weather Service Chicago